Laser Hair Removal School
Laser Hair Removal School is Capable of Advancing Your Career

Careers in the medical field are growing quickly. There are a variety of different professions available as well as adequate training for those interested in helping people and making a real difference. One such career is laser hair removal. You can attend a laser hair removal school to become trained to administer laser hair removal services in a short period of time, and there is more demand than ever for this exclusive service.
Earn Certification in Two Weeks or Less

It doesn't matter if you are a newcomer to this career field, an esthetician or cosmetologist, or a medical professional–you must attend an accredited laser hair removal school in order to become licensed to perform treatment. National Laser Institute offers job placement services, competitive tuition pricing, and employs real doctors and practitioners to teach students about laser hair removal.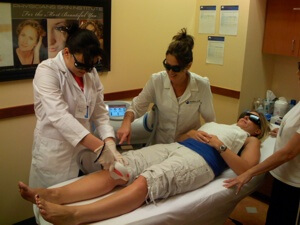 National Laser Institute is a uniquely different laser hair removal school. They offer an in depth curriculum of laser courses to prepare individuals for a career in this field, including hands-on training, and were the first laser school in the nation that was approved by the ARRA regulatory agency. They teach client selection, laser safety, sterilization procedures, marketing, and post treatment care among many other topics. National Laser Institute offers a one week course to become certified in laser hair removal.
With National Laser Institute, we want your education to revolve around you. That's why we also offer students our graduate services department, our online medical esthetic library, safety training as well as financial aid for those who qualify.
The cost of laser hair removal has gone up, which is making the career field quite lucrative and exciting. Choosing the right laser hair removal school can be a great way to break into a new career.
Careers in the health care industry have never been more in demand and rewarding. Laser hair removal targets a very large demographic with clients of all ages needing hair removal services at one point or another. Training to become a certified laser hair removal technician can take as little as one week. Don't wait another minute, get started on your new career today!
What Students are Saying About Laser Hair Removal School
Is it possible to be successful in the cosmetic laser industry? Definitely! See what our graduates have to say about their experience at National Laser Institute and learn about their careers and success in the market!
Learn more about laser training opportunities:
Laser Hair Removal Schools
Aesthetic Laser Training
Laser Hair Removal Certification