Microneedling with Platelet-Rich Plasma (PRP) Course
Microneedling with Platelet-Rich Plasma (PRP) Course Overview
In our one-day Microneedling with Platelet-Rich Plasma (PRP) Course, you'll learn how to use one of today's most highly requested treatments, microneedling, along with the very latest in anti-aging treatments, Platelet-Rich Plasma (PRP). This course is taught by top medical aesthetics professionals, each with in-depth microneedling and PRP experience.
Our Microneedling with PRP training course is ideal for MDs, nurses, PAs and other health care professionals wanting to add medical aesthetics to their practices, and particularly for those wanting to offer in-demand, cutting edge cosmetic treatments to their patients.
Why Microneedling with Platelet-Rich Plasma (PRP) Training?
Numerous studies have shown that one of the best ways to improve skin's tone and texture is by stimulating the body's own healing process. Microneedling improves skin's firmness while reducing the appearance of fine lines and acne scars, all with minimal downtime. PRP has a long history of use in sports and orthopedic medicine as well as dentistry and reconstructive surgery. We're now seeing that it can also significantly benefit cosmetic facial rejuvenation, dermatology and skin wound healing.
How Does Microneedling with Platelet-Rich Plasma (PRP) work?
With Microneedling, a minimally invasive pen-shaped device studded with several very fine needles is passed over the treatment area(s). The needles break down old tissue, causing deliberate, minor injury to the skin's surface, thereby stimulating a healing response. Over time, new collagen is produced and the result is younger, healthier, more beautiful looking skin. Microneedling also creates tiny channels in which topically applied nutrients can be absorbed at a much higher level. In fact, within the hour after treatment, they can be absorbed at a 3,000 percent higher rate. When combined with PRP, the results are astounding.
Platelet-Rich Plasma (PRP) occurs naturally in our bodies. For a PRP treatment, a small amount of blood is drawn from the client and placed in a sterile tube, then spun in a centrifuge to separate red and white cells from platelets and plasma (clear fluid). This plasma now has a higher than normal number of platelets, thus making it platelet-rich plasma. When applied to the skin, PRP grows new collagen and newer studies show that it can also soften sun damage while smoothing and tightening skin. It is an effective treatment in correcting common age-related skin concerns such as dark circles under the eyes, fine lines, sagging, decreased firmness and uneven tone.
What Can Clients Expect from a Microneedling with Platelet-Rich Plamsa (PRP) Treatment?
Considered a non-ablative treatment, microneedling treats deeper levels of the skin without removing the top layer. Side effects experienced with microneedling typically subside in 24-48 hours and include swelling, stinging, itching, and tightness of the skin. A few days after treatment, skin is noticeably smoother and more radiant, and fully appreciable results typically occur a few months later. Side effects of PRP therapy are minimal, as the client's own blood is being used but proper precautions should always be taken when drawing blood, and only performed by a licensed medical professional.
Microneedling with PRP Class Objectives
One-Day Intensive Learning Environment Objectives
Understand how sun, acne and aging damage the skin.
Understand protocols for client preparation with pre and post procedural care instructions.
Learn how microneedling can be used in conjunction with anti-aging and skin-improving serums and nutrients for optimal results.
Understand how PRP has been used for many years in the tissue healing process.
Possess knowledge that PRP can be used to grow new collagen, regenerate soft tissue and smooth and tighten skin.
Understand how to draw blood from the client and place it in a sterile tube, spin it in a centrifuge to separate red and white cells from platelets and plasma (clear fluid) and properly apply it to client's skin.
Patient Benefits
Smoother, tighter skin
Improvement in the appearance of fine lines, wrinkles, dark circles, sagging and uneven tone
Who Can Perform Microneedling with PRP?
Registered Nurses (RN), Physicians (MD & DO), Nurse Practitioners (NP), Physician Assistants (PA), Dentists (DDS & DMD), and other qualified health professionals.
Medical Professional Testimonials
Why Medical Professionals Choose NLI
The Botox and fillers class offered a lot of hands-on experience. I gained a great deal of confidence in my ability to perform treatments, especially since the instructors are right there to guide and encourage you.
Eva S. Estes RN
Absolutely loved my experience. I learned so much and am excited about this journey of doing Botox and fillers. I am definitely planning on taking more classes. I would recommend your classes to anyone inquiring about aesthetics! Thank you so much!
Mary Beth Medina, MSN FNP-C
National Laser Institute took me from a RN with 0 experience or knowledge in medical spa knowledge to a RN that feels confident performing services to the community in my hometown in Northern Canada. There is little opportunity here to experience these services, and I'm so happy I can bring my knowledge and treatments here. Thank you, National Laser Institute!
Rebekah Daigle
View hundreds more medical professional testimonials here!
All CME Courses at NLI
Looking for CME classes and CE courses? Browse our course selection below!
Ultimate Courses (Most Popular):
14 Days of Cosmetic Laser & Injectables: 5 Days Laser Training, BOTOX®/Dysport®, Dermal Fillers, Intro To Advanced BOTOX®/Fillers, Clinical Advanced BOTOX®/Fillers, Platelet-Rich Plasma (PRP), Advanced Platelet-Rich Plasma (PRP), Body & Veins & 2 Days PDO Threads
9 Days of Cosmetic Laser & Injectables: Laser Training, BOTOX®/Dysport®, Dermal Fillers and 2 Days Advanced BOTOX®/Fillers
Get Started Courses:
Looking For A Weekend Course?:
Medical Director Course: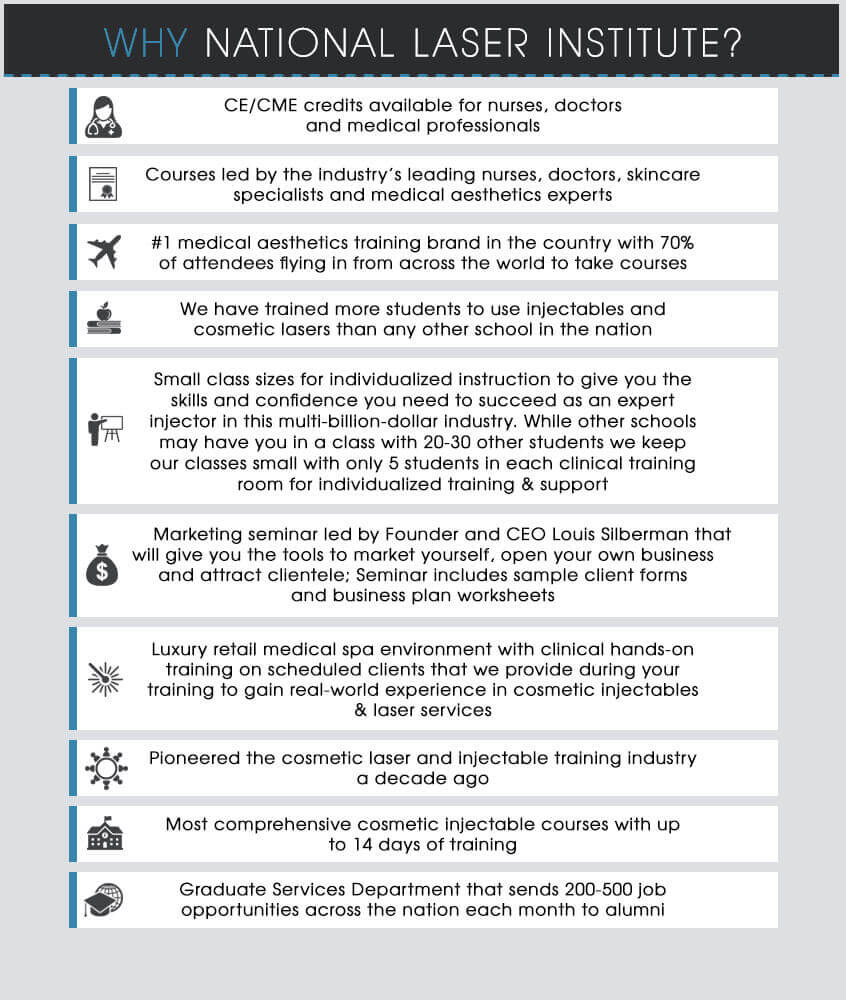 Classes are offered every month, click to
view the schedule
.
For more details on our Microneedling with PRP course, please give us a call at 1-480-290-7399 or fill out our form on the right.