Platelet-Rich Plasma (PRP) Training
Course Overview
Our 1 or 2-day platelet-rich plasma (PRP) training teaches medical professionals how to inject client's own platelet-rich plasma to grow new collagen, regenerate soft tissue and smooth and tighten skin. This course is taught by top physicians and nurses, each with in-depth cosmetic injection experience.
Our PRP training course is ideal for MDs, DOs, NPs, NMDs, PAs, nurses and other health care professionals wanting to add medical aesthetics to their practices, and particularly for those wanting to offer in-demand, cutting edge cosmetic treatments to their patients.
How Does PRP Work?
PRP occurs naturally in our bodies. For a PRP treatment, a small amount of blood is drawn from the client and placed in a sterile tube, then spun in a centrifuge to separate red and white cells from platelets and plasma (clear fluid). This plasma now has a higher than normal number of platelets, thus making it platelet-rich plasma.
Why PRP?
PRP has a long history of use in sports and orthopedic medicine as well as dentistry and reconstructive surgery. We're now seeing that it can also significantly benefit cosmetic facial rejuvenation, dermatology and skin wound healing.
How Can PRP Be Used to Rejuvenate Skin?
When injected into the skin, PRP grows new collagen and newer studies show that it can also soften sun damage while smoothing and tightening skin. It is an effective treatment in correcting common age-related skin concerns such as dark circles and hollows under the eyes, fine lines, sagging, decreased firmness and uneven tone.
What are Treatments Like?
Once the client's blood has been drawn and prepared, injections are quick—only about 15-20 minutes—and relatively painless. There may be some mild swelling, redness and bruising which typically dissipate in 1-3 days. Since PRP is made from the client's own cells, there is virtually no risk of side effects.
What About Results?
Results typically begin to show 3-4 weeks after treatment and continue to improve over time. For best results, three treatments are generally recommended, spaced about 1-2 months apart. Clients typically report smoother skin texture and improved tone, decreased wrinkles and fine lines and an overall firmer appearance.
How is PRP Different from Dermal Fillers?
PRP works differently from dermal fillers such as Juvederm, Restylane, and Voluma. While dermal fillers fill individual wrinkles or treatment areas with natural substances such as hyaluronic acid, PRP improves overall skin tone and texture.
Can PRP be Used with Other Treatments?
PRP works very well in combination with dermal fillers such as Juvederm, Restylane and Voluma (the PRP is injected following the fillers). PRP is also quite popular combined with Microneedling.
Platelet-Rich Plasma (PRP) Training Courses Objectives
Objectives:
Fundamental knowledge of the wound healing process.
Learn about the medical history of PRP use and how it's now being used in cosmetic medicine.
Education on how PRP can be used to generate soft tissue and collagen, while also firming and improving skin tone.
Protocol for drawing blood, placing it in the centrifuge and separating its different components.
Knowledge of proper placement of PRP for optimal results.
Client preparation, pre and post care instructions and safety protocols.
Clinical hands-on training for real world experience with PRP injections
Medical Professional Testimonials
Why Medical Professionals Choose NLI
The Botox and fillers class offered a lot of hands-on experience. I gained a great deal of confidence in my ability to perform treatments, especially since the instructors are right there to guide and encourage you.
Eva S. Estes RN
Absolutely loved my experience. I learned so much and am excited about this journey of doing Botox and fillers. I am definitely planning on taking more classes. I would recommend your classes to anyone inquiring about aesthetics! Thank you so much!
Mary Beth Medina, MSN FNP-C
National Laser Institute took me from a RN with 0 experience or knowledge in medical spa knowledge to a RN that feels confident performing services to the community in my hometown in Northern Canada. There is little opportunity here to experience these services, and I'm so happy I can bring my knowledge and treatments here. Thank you, National Laser Institute!
Rebekah Daigle
View hundreds more medical professional testimonials here!
All CME Courses at NLI
Looking for CME classes and CE courses? Browse our course selection below!
Ultimate Courses (Most Popular):
Get Started Courses:
Looking For A Weekend Course?:
Medical Director Course: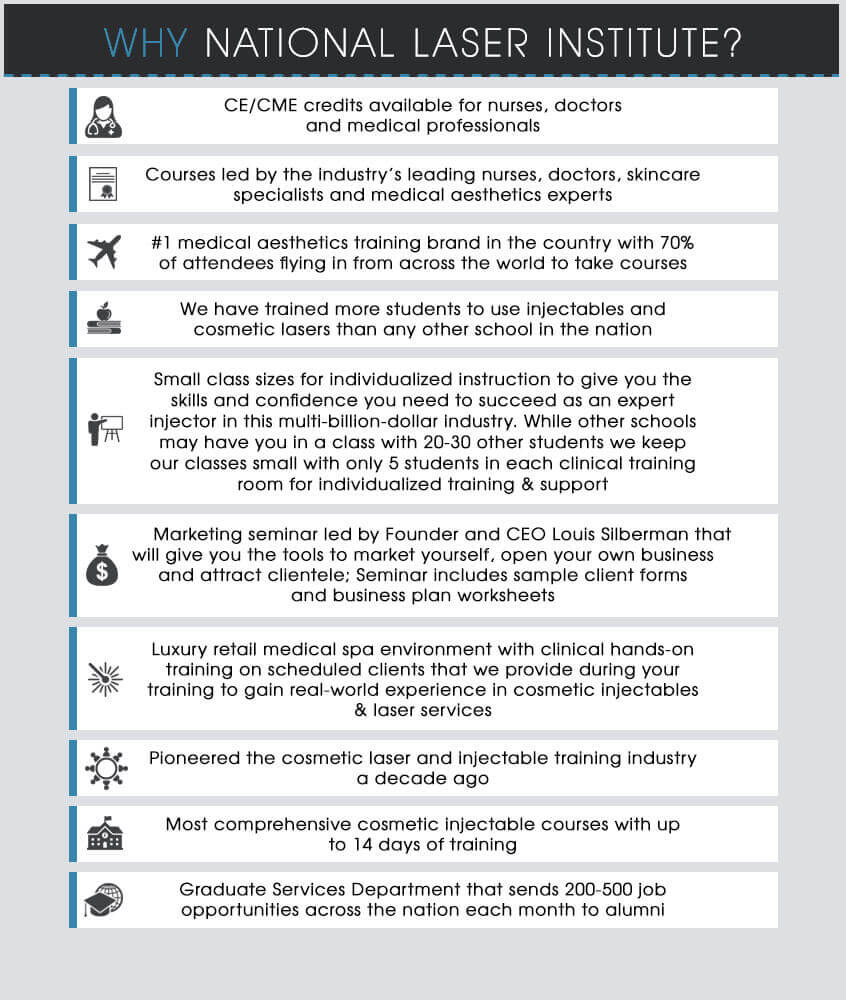 Classes are offered every month, click to view the schedule.
For more details on our Platelet-Rich Plasma (PRP) Training course, please give us a call at 1-800-982-6817 or fill out our form on the right.