Why Is Laser Hair Removal Popular?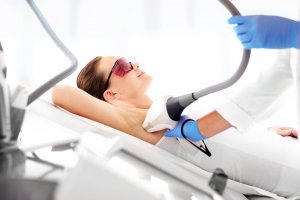 Each day, thousands of men and women look for ways to improve their appearance.
Clients with fine lines and wrinkles turn to Botox (botulinum toxin) or dermal fillers, while those looking to eliminate excess body hair turn to cosmetic solutions to remove this hair for good!
In recent year, laser hair removal technology has advanced and caused more clients to seek out this light-based treatment.
How Does Laser Hair Removal Work?
The process for this semi-permanent hair removal option is quite simple:
A concentrated beam of light is aimed at the hair.
The light is absorbed by the pigment.
The hair follicles are damaged enough to stop future growth.
This cosmetic treatment works by destroying the root of the hair follicle, which contains a component called melanin. The melanin is responsible for giving the hair its color. When exposed to a laser, the melanin absorbs the photons present in laser light, resulting in the breakdown of the melanin and the hair follicle.
While the results differ from person to person, lasers can remove hair for anywhere from several months to years.
As a Cosmetic Laser Tech, it's important to keep in mind that this cosmetic treatment is not permanent. The hair follicles must be in the growth phase for laser hair removal to be effective.
Laser hair removal can be performed on any area of the body, including the face, legs, underarms, bikini area, back and chest.
Why is Laser Hair Removal Popular?
In 2016, over 1.1 million laser hair removal treatments were performed in the United States, according to the American Society of Plastic Surgeons (ASPS). This was part of the $16 billion spent on medical aesthetic treatments.
Laser hair removal is the most popular aesthetic procedure for women under the age of 35 and is second only to Botox for women over 35-years-old.
But why is laser hair removal popular? Here are a few reasons:
The procedure can be performed with minimal discomfort, and client satisfaction rates are high.
The results can last for a while, though in some cases multiple treatments are needed as it does drastically reduce hair growth.
The laser hair reduction process is quick and can be performed during your lunch break.
The treatment is affordable, and given the results the procedure has, it is no surprise that it is still one of the most sought-after treatments by men and women.
Laser hair removal can be performed on any area of the body including the face, legs, underarms, bikini area, back and chest.
Medical Aesthetics Training at National Laser Institute
At National Laser Institute, we offer a variety of medical aesthetic courses that can be completed in just 1-2 weeks! Each year, we teach thousands of estheticians and medical professionals how to become cosmetic laser techs.
Our Comprehensive Laser Course is the most popular. During laser training, our knowledgeable instructors – with 7 to 20 years of experience in the field – will teach you the most in-demand cosmetic laser treatments, including:
Laser hair reduction
Laser wrinkle reduction
Laser tattoo removal
Intense Pulsed Light (IPL) photofacial
Radiofrequency skin tightening
Non-ablative radiofrequency skin resurfacing
Cellulite and fat reduction
Nonsurgical body contouring (CoolSculpting)
And more!
The first half of the course is spent in the classroom where you will learn things like facial anatomy, tissue interaction, and pre- and post-patient care.
The second half of the course will be spent doing clinical hands-on training in our educational setting. We have a dedicated team that works around the clock to schedule clients for you to work on.
During hands-on training, you will watch live demonstrations and have the chance to perform these treatments yourself to gain real-world experience in a medical spa environment.
By the end of laser training at National Laser Institute, you will feel comfortable and confident to administer a variety of laser treatments in any medical aesthetic setting, including medical spas, physician's offices and other medical practices.
If you are interested in learning more about our cosmetic laser courses or any of our other current courses, please give us a call at 800-982-6817 or fill out the form on your right.