I Want to Add Cosmetic Lasers to my Business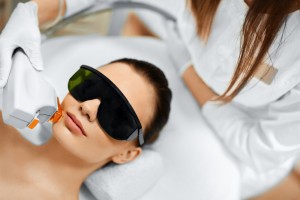 The cosmetic laser industry has grown exponentially over the past decade due to a number of factors including an increased awareness of personal appearance via social media (aka "the selfie phenomenon"), an aging baby boomer population, and ever- improving technology that's decreasing consumer cost while improving results.
The good news for those in the cosmetic laser industry is that demand is projected for continued growth well into the future. With this in mind, more and more people are considering adding cosmetic lasers to their businesses. But just how much can you make on the average treatment?
According to Medgadget, the aesthetic/cosmetic lasers market is categorized into pigmented lesions, skin rejuvenation, vascular lesions, acne and scars, hair removal, leg veins and varicose veins, and specific applications such as gynecological conditions (feminine rejuvenation) and toenail fungus. To that list, we would add tattoo removal, teeth whitening, skin tag removal, stretch mark reduction, cellulite reduction, and nonsurgical body contouring. Now, let's take a closer look at typical market rates for some of these services:
Laser hair removal – while the amount of time it takes to perform laser hair removal really depends on the size/density of the treatment area, many smaller areas such as underarms, upper lip, and bikini take less than 15 minutes. Full legs and men's back typically take longer—around 45 minutes. And the cost to the consumer? Smaller areas typically range from about $110 to $165 per treatment, while larger areas go for anywhere from $275 to $375. Also, keep in mind that for optimal results, six to eight treatments are typically needed. So, if a client requests treatment in an area that costs $165 and she requires eight treatments, that's $1,320 dollars for just two hour's worth of the cosmetic laser technician's time.
Photofacial skin rejuvenation – utilizing intense pulsed light to target skin imperfections, this is an ideal treatment for sun damage, freckles, fine lines, broken capillaries, and redness. Photofacial can be used on just about every part of the face and body, and depending on the size of the treatment area, takes only 20 minutes to complete. Clients love how quickly photofacial works and with no downtime. For optimal results, 3-5 treatments are recommended, and then regular maintenance about every six months. At approximately $250 per treatment area, this is a frequently requested service.
eMatrix – while eMatrix treatments go deeper than photofacial, they are still considered a minimally invasive treatment with little or no downtime. Perfect for treating wrinkles, acne, and acne scars, and providing subtle fractional resurfacing, it's also safe and effective for all skin types. Treatments take just 30 minutes or less and cost approximately $595 per treatment area. There is a cost of about $40-$80 for the consumable tips, depending on the number of "pulses" it contains.
Profractional laser for anti-aging – profractional laser treatments are more aggressive than some other types of anti-aging treatments, with approximately 5-10 days of downtime—but results are astounding. Profractional increases collagen production, removes surface damage, and provides advanced toning and tightening. Profractional facial treatments take about 30 minutes, plus time for a topical numbing cream application (which yields a more comfortable treatment for the client). While one client is "numbing", you can also treat another client so you won't lose that time. The cost? Treatments run anywhere between $1,300-$2,000 per treatment.
CoolSculpting – today's nonsurgical body contouring has quickly become a frequently requested treatment due to high client satisfaction, no surgery needed and no downtime. CoolSculpting freezes and permanently eliminates stubborn fat that is resistant to diet and exercise. In just one hour (depending on the body part), you can literally sculpt the body your client has always wanted, and at approximately $800 per area, it's a very lucrative treatment for the business owner, too. There are some associate overhead costs such as the time cards for cycles (you insert a computerized chip that's been preloaded with machine time), and those typically cost about $150 per treatment. Still, $650 per hour is not bad!
When it comes to laser and IPL equipment, there are several options including purchasing, leasing, financing or renting equipment—depending on your business' needs, client demand and of course, your budget. For an in-depth look at equipment options, check out The Expert's Guide to Buying Laser Equipment.
Whether you're already in the healthy and beauty industry and wanting to add cosmetic lasers to your business, or just getting started—as you can see, cosmetic lasers can be highly profitable.
For more information on a cosmetic laser education or any of our medical aesthetics courses, click here or call us at 800-982-6817.
Tags: add cosmetic lasers to my business, cosmetic lasers, cosmetic laser education