FDA Clears CoolSculpting for Double Chin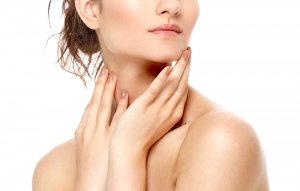 The medical aesthetics treatment that can freeze fat off the abdomen and thighs was cleared by the FDA in December 2017 to treat submental fullness, commonly known as the double chin.
CoolSculpting made a splash in 2010 when it hit physician's offices as a non-surgical alternative to liposuction.
When an area is treated with non-invasive CoolSculpting, the fat cells are frozen and eliminated naturally by the body with little to no downtime.
CoolSculpting For Double Chin Reduction
Until now, fat freezing or cryolipolysis (brand name CoolSculpting) was only FDA approved for larger areas such as the sides of the waistline, the stomach, back, thighs and upper arms.
As of December 2017, CoolSculpting was cleared to treat "lax tissue in conjunction with submental fat." This refers to loose skin and excess fat under the chin, which is an area that is more difficult to alter with lifestyle changes.
An 18-week clinical study of CoolSculpt found that 77 percent of clients showed an improved appearance of lax tissue. Seventy-five percent of clients reported a more contoured neck following treatment, according to a press release from Allergan.
While this is the only double chin removal treatment to be FDA approved, it is not the only cosmetic procedure recently approved by the FDA. In October 2017, the FDA cleared Botox to treat the appearance of moderate to severe forehead lines.
Body Contouring With CoolSculpting
If your clients are looking to lose stubborn body fat without surgery, CoolSculpting might be a good fit!
With more than 6 million treatments performed worldwide, this fat reduction treatment is an innovative way to contour the body and freeze unwanted fat with no surgery or downtime.
Here is how fat removal without surgery works:
The treatment uses controlled cooling to target and crystallizes fat cells.
The crystallized fat cells gradually die off and are naturally eliminated from the body.
In the weeks and months following treatment, the remaining fat cells condense, reducing the fat layer.
Your clients might also wonder how the body processes fat cells after a CoolSculpting treatment? The answer is quite simple:
The body has a fixed number of fat cells that enlarge or shrink as you gain or lose weight.
When you have a CoolSculpting treatment, the fat cells freeze and begin to die off.
During the process of cell death, the fat cells begin to collapse.
Over the weeks that follow a CoolSculpting procedure, other cells consume the dead fat cells and are naturally processed and eliminated from the body.
Medical Aesthetics Training at National Laser Institute
Do you have a passion for helping others look and feel their best? If the answer is yes, then a career in medical aesthetics is the perfect fit!
Did you know Americans spent over $16 BILLION on cosmetic treatments in 2016? This includes procedures like Botox and neurotoxin injections, dermal fillers (Restylane, Perlane, Juvederm), laser hair removal and non-invasive body contouring.
At National Laser Institute, we offer medical aesthetics training that can be completed in just two weeks. Each course is designed to provide attendees with the ultimate learning experience with didactic (classroom) education and clinical hands-on training.
What sets us apart from other esthetics schools across the country is we spend millions of dollars each year on scheduling real clients for you to work on during clinicals.
Whether you are an esthetician or looking for a career change, our Comprehensive Laser Course will teach you everything you need to know to succeed as a cosmetic laser tech.
By the end of the course, you will feel comfortable and confident in performing a variety of treatments, including:
Laser hair removal
Laser tattoo removal
Intense Pulsed Light (IPL) photofacial
Cellulite and fat reduction
Acne reduction
Radiofrequency skin tightening
And more!
Our alumni have found jobs working in laser & niche clinics, medical spas, physician's offices, salons, fitness centers and more!
To learn how to jump-start your career in the medical aesthetics industry, give us a call at 800-982-6817 or fill out the form on your right.