Start a flexible career in Medical Aesthetics!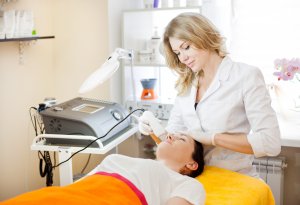 Are you burnt out with your current work schedule and looking for a more flexible career that aligns with your passions? If you have an interest in the beauty industry and making people feel good then a flexible career in the field of medical aesthetics may be the perfect career path for you!
Here at the National Laser Institute, we offer everything from cosmetic laser training to Botox and filler injection training. Our programs are intensive, hands-on, and fast! You won't be in school for a few years, you'll be able to gain the skills to start a whole new career in a matter of two weeks or less. This is the perfect industry to get into if you have a passion for beauty, love working one on one with clients, and are looking for a more flexible career that still allows you to make a good living. You won't have to compromise having a life for having a flexible career when you work in medical aesthetics. You'll be able to work normal hours and depending on where you work you can often even have a great deal of flexibility when it comes to the days you choose to work on. If you have been wanting to get out of a job you aren't passionate about that has been taking over your schedule and prevented you from living your life, then a career in medical aesthetics is definitely for you! 
When it comes to training in the medical aesthetics industry, here at the National Laser Institute we offer a truly unique experience. Unlike most medical aesthetic training programs where you do not practice on real people, during our program, you'll have a chance to work on real, paying clients while one of our expert instructors is right alongside you guiding you through the process. With our hands-on training along with our classroom instruction, you'll leave our program feeling confident about your ability to start a flexible career in the medical aesthetics industry.  Depending on what your professional background is and what your career goals are, we have a few different programs that may work for you. If you are a medical professional such as a nurse or doctor, we have a two week CME course that covers cosmetic lasers and injections. During this course, you'll learn everything from how to administer in-demand treatments such as Botox injections to performing treatments such as laser hair removal and coolsculpting. If you don't have a medical background, don't worry! We have a two-week comprehensive laser cosmetics course where you'll learn all the most in-demand laser cosmetic treatments in the medical aesthetics industry! You'll have hands-on practice and classroom learning so that by the end of the program you'll walk away feeling ready to start a flexible career as a laser technician.   
Our NEW cutting-edge hybrid* online experience will enable you to continue on your journey towards learning injections and more. During our CME Hybrid* Online Cosmetic Injections Course you will receive a combination of online classroom and clinicals, including demonstrations on Botox, Dermal Fillers, Off Label Botox & Filler Injections, PRP, Sclerotherapy, Kybella & PDO Threads. 
This course gives you a comprehensive overview of everything that the medical aesthetics industry offers. You'll leave the course feeling confident in your ability to administer Botox and filler injections. This is a great option if you are looking to transition fully into the medical aesthetics field and want to work at a medical spa or other places of employment focusing on administering medical aesthetic treatments.   
If you're someone who doesn't come from a medical background, don't worry we have courses that are perfect for you as well! Anyone can perform cosmetic laser treatments with the proper training and certification. Here at the National Laser Institute, we also offer a Hybrid* Online Comprehensive Laser Course where you will receive a combination of online classroom laser training and clinicals with a variety of instructors and live demonstrations with several hours on each modality. Modalities include Laser Hair Removal, Photofacial, Laser Skin Rejuvenation, Radiofrequency Skin Rejuvenation, Coolsculpting, Cellulite Reduction, Tattoo Removal, Radiofrequency Skin Tightening, and Microneedling.
 At the end of the program you'll be able to:
Recognize the unique characteristics of a cosmetic client

Understand the fundamentals of how a laser interacts with skin tissue

Explain how different types of light-based devices interact with the skin in nonsurgical procedures

Identify safety issues and complications as well as recognize contraindications for various cosmetic laser treatments

Determine which types of laser treatments will create the desired results for your clients

Understand the hazards associated with cosmetic lasers and how to avoid them

Demonstrate proper technique and safe operation of laser and pulsed light devices

Explain the benefits, expectations, and results associated with several laser devices
Why choose the National Laser Institute
When it comes to choosing to attend a course at the National Laser Institute you are making an investment in a course that is going to change your future in the medical aesthetic field, otherwise, why invest your time and money into taking a course? At the National Laser Institute, we make sure that your money and time is well worth it! You'll leave feeling confident in your ability to be a practicing professional in the medical aesthetic industry. 
About the National Laser Institute:
Classes lead by dermatologists, cosmetic surgeons, and leading industry physicians and medical aesthetics experts

Train on multiple, industry-leading technologies

Luxury, retail medical spa training center

Staffed with a specific team of 20 customer service/marketing agents whose mission is to provide over 2000 clients per month nationwide so that our attendees receive extensive hands-on training

Medical advisory board with over 100 years of combined experience

Business development/marketing seminars

Featured in the top national health and beauty publications

Industry pioneer for education in Laser, Botox, and Filler training
Student Testimonials
"National Laser Institute has helped me immensely in my new career. I had no prior experience in the field, and almost immediately I had job offers! I was also very impressed with the ongoing help and information I received after my class ended. Anytime I had questions I would call and receive a prompt response. I am happy with my new job and I learned so much in 2 short weeks."
– Jordan G.
"I cannot express in words how exceptional my experience was at the National Laser Institute. The staff and instructors are simply amazing. Each and every person I encountered at NLI made my time there worth every second. I learned more than I thought I would and am forever grateful to Jen Simpson who helped make this whole experience happen for me! So here is a huge thanks to everyone at NLI!!!"
– Melissa Salazar
If you are interested in starting a flexible career in the medical aesthetic industry, then check out our courses and give us a call at 855-637-4530 for more information!
Check out our podcast all about getting into the medical aesthetic industry! Listen on Apple Podcasts and subscribe!