Learn How to Treat Sun Damage with Microneeding Training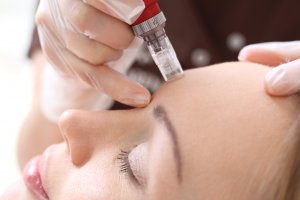 From Botox and dermal fillers to eMatrix, there are numerous anti-aging options available to help us look and feel younger.
Microneedling is one of the latest medical aesthetic trends in the quest for smoother and rejuvenated skin.
If you have a passion for health and beauty, did you know you can learn microneedling and other medical aesthetic treatments like laser hair removal with training from National Laser Institute?
What is Microneedling, and How Does It Work?
Microneedling (also known as skin needling and collagen induction therapy) is a skin rejuvenation treatment that uses fine needles to puncture the skin, creating controlled skin injury to rejuvenate the skin, which improves skin tone and texture.
It is also used to treat the appearance of aging, scarring, stretch marks, and pigmentation from acne and sun damage.
The idea behind microneedling is to stimulate the production of new collagen through the use of the skin's natural ability to heal itself.
Collagen is a protein that gives our skin its structure, and it works like a netting that holds skin cells together, giving the skin a smooth and youthful appearance. And as we age, this collagen starts to break down and makes us appear older.
Microneedling uses a minimally invasive pen-shaped device that is studded with several very fine needles and passed over the treatment area. The needles break down old tissue, causing deliberate minor injury to the skin's surface thereby stimulating the healing process.
This cosmetic treatment can be used alone or with serums that are infused deeply into the skin. Popular serums include:
Hyaluronic acid to add moisture and reduce wrinkles
Vitamin C to rejuvenate skin
Skin lighteners to reduce hyperpigmentation
And various acne-fighting ingredients that destroy bacteria.
What Are the Benefits of Microneedling?
Microneedling is in high demand because results are noticeable and downtime is minimal. Other microneedling benefits include:
Fine lines and wrinkles. Facial wrinkles, sun damage and thinning skin are caused by the loss of collagen and elastin as we age. Microneedling can improve these conditions through the production of natural collagen and elastin. This also helps tighten and thicken the skin.
Scars (including acne). This is by far the most popular reason clients get this medical aesthetic treatment. Microneedling can improve or fade out most types of scarring because it can break up old scar tissue and stimulate collagen and elastin production that is similar to healthy skin.
Stretch marks. Stretch marks occur from rapid skin stretching. Microneedling breaks down the stretch mark tissue, which triggers collagen growth. A client's stretch marks will eventually fade after several treatments.
Rosacea. This is a common skin disorder that produces facial redness that can lead to the breakdown of collagen. Things like sunlight, beverages and temperature changes can cause rosacea. By producing a significant amount of collagen, microneedling can improve the appearance of rosacea.
What You'll Learn During Microneedling Training
During microneedling training, you will learn things like:
The clinical uses of microneedling.
Treatment protocols and proper use of microneedling devices.
Identify treatment contradictions.
Understand pre- and post-treatment care and be able to explain them to clients.
Microneedling Training at National Laser Institute
Did you know you can learn microneedling and other medical aesthetic treatments with training from National Laser Institute? Courses can be completed in just 1-2 weeks and are highly customizable to fit your learning goals!
Each of our courses is divided into two sections: didactic (classroom) and clinical hands-on training. In the classroom, you will learn things like facial anatomy, skin preparation, pre- and post-patient care as well as how to combine microneedling with other compatible treatments for optimal results.
The second half of the course is spent doing clinical hands-on training in a medical spa environment with scheduled clients to give you real-world experience.
After medical aesthetics training at National Laser Institute, you will feel comfortable and confident to perform these cosmetic injectable treatments in any medical setting!
If you would like to learn more about Microneedling training or any of our other medical aesthetics courses, please feel free to fill out the form on your right or give us a ring at 800-982-6817.