Ready for Laser Tattoo Removal Training? Here's Why Tattoo Location Matters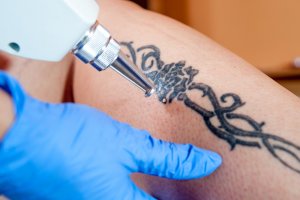 Interested in becoming a laser tattoo removal technician?
Laser tattoo removal is one of the medical aesthetic industry's fastest-growing fields due to a growing number of people with tattoos they want removed.
One of the first things you'll learn during cosmetic laser training is that tattoo placement – among other things – are important factors when performing laser tattoo removal.
Here's Why Tattoo Location Matters During Tattoo Removal
During laser training, you'll learn that there are 3 reasons why tattoo placement matters when removing a tattoo:
1. Tattoo placement affects how well a client's tattoo can be removed
As a laser tattoo removal technician, one of the general rules of thumb you'll learn is that the closer a tattoo is to the heart, the more effective the tattoo removal treatment will be. Tattoos on the upper arms, neck or face have a better chance of removal as opposed to tattoos on the hands, feet or legs, which experience lower rates of circulation.
2. Tattoo placement affects how many treatments a client will receive
Clients who have upper body tattoos may experience faster healing between each treatment session. Many laser tattoo removal technicians suggest clients with upper and middle body tattoos wait about 6 to 12 weeks between sessions. For the lower body, it's best to wait 8 to 12 weeks between sessions.
3. Tattoo placement may affect pain level for clients getting laser tattoo removal
When clients are considering tattoo removal, one of the first questions they might ask is: "Will tattoo removal hurt?" Laser tattoo removal hurts in locations where it hurt to get the original tattoo. So, this means areas where the skin is thin and covering a sensitive ligament (i.e. hands, wrist, elbows, etc.) will hurt more. During laser tattoo removal training, you'll learn how to remove a tattoo with minimal client discomfort.   
How Does Laser Tattoo Removal Work?
Before lasers became popular for tattoo removal in the late 1980s, removing a tattoo involved the use of one or more methods that were often painful and scar-inducing. These methods included:
Dermabrasion. Skin is "sanded," which removes the surface and middle layers of skin.
Cryosurgery. The area is frozen prior to removal.
Excision. A dermatologic surgeon removes the tattoo with a scalpel, and the wound is closed with stitches.
Today, lasers have become the standard method for tattoo removal, because it's low risk and an effective alternative with minimal side effects. Each tattoo removal procedure is done on an outpatient basis.
The type of laser used to remove a tattoo depends on the tattoo's pigment colors. Typically, yellow and green are the hardest to remove. Blue and black are the easiest.
So, how do lasers remove tattoos? The process is quite simple:
The laser produces short pulses of intense light
That pass through the top layers of skin that are absorbed by the tattoo pigment.
This causes the pigment to fragment into smaller particles,
And they are removed by the body's immune system.
How many laser tattoo removal treatments are needed? The location, age and quality of the tattoo combined with your body's ability to dispose of the ink will determine the number of  tattoo removal treatments. On average, 10-12 laser tattoo removal treatments are needed by the average client; however, every person and tattoo is unique. Some might require more while others require less.
Tattoo Removal Training at National Laser Institute
Are you interested in a niche career as a laser tattoo removal technician? At National Laser Institute, we offer tattoo removal training that can be completed in just 1-2 weeks!
During our Just Tattoo Removal Course, you'll receive didactic education and clinical hands-on training where you will have to opportunity to treat scheduled clients in our luxury medical spa.
The technology we use includes all 3 wavelengths (1064/755/532) to address all tattoo colors. Although most laser tattoo devices don't include all 3 wavelengths, knowing the different types is key to your success as a tattoo removal technician.
Students who have received laser tattoo removal training have gone on to work at laser clinics, medical spas, tattoo shops, and some have even opened their own business!
Of course, if you are interested in learning more than just tattoo removal, our Comprehensive Laser Course has got you covered. In addition to laser tattoo removal, you'll learn things like:
Laser hair removal
Skin tightening
Body contouring
Acne reduction
IPL photofacial
Fat reduction
Cellulite reduction
And more!
If you would like more information about tattoo removal training or cosmetic laser education, fill out the form on your right or give us a call at 800-982-6817.