Just Tattoo Removal
Laser Tattoo Removal Training Course
Our Just Tattoo Removal course provides comprehensive classroom (didactic) education and hands-on tattoo removal training where students will treat actual clients within our luxury medical spa. This course is ideal for those who want to jumpstart their careers as a Tattoo Removal Technician, specializing in laser tattoo removal treatments.
Each tattoo removal course here at National Laser Institute is taught by industry-leading experts who have 10 to 20 years of experience working in the medical aesthetics marketplace. They will provide you with the knowledge and skills that you need to feel comfortable and confident in administering tattoo removal treatments to your future clients!
The tattoo removal industry is experiencing explosive growth as millions of patients are experiencing "tattoo regret." This comprehensive course incorporates the latest advances in laser technology and laser practice to help prepare you – no matter what your background – to use tattoo removal lasers to eliminate unwanted tattoos.
Your tuition includes a course manual that consists of written materials and marketing tools, including examples of history, consent and policy forms, and a certificate of training upon course completion. We also provide you with access to our online medical aesthetics library, which contains resources, including instructional videos, clinical studies and more.
Classroom (Didactic) Education
The first half of this laser tattoo removal course is spent in a classroom environment. During this time, you will discuss and learn the fundamentals of performing laser tattoo removal treatments. Your experienced instructor will lead in-depth discussions about the types of tattoos and how to remove them, tattoo removal techniques, and pre- and post-treatment protocols. You will also explore topics such as:
Q-switched lasers and how they can effectively remove many types of tattoos
Laser physics, tissue interaction, and the Fitzpatrick scale
How tattoos interact with the skin and change over time
Wavelengths needed for tattoo removal treatments
Potential side effects and how to manage them
Laser equipment, safety and settings
Safety is our number one priority, and we make sure all our students are knowledgeable and gain a thorough understanding of handing cosmetic lasers before they enter the treatment room.
Hands-On Training
National Laser Institute supplements classroom education with clinicals where you will receive hands-on practice with advanced, state-of-the-art laser technology and learn a wide range of techniques to provide safe and effective treatments to your clients.
In a real medical spa environment, you will have the opportunity to work on multiple different clients and tattoo types in order to practice safe and effective cosmetic laser techniques. The technology we use is most effective and includes all three wavelengths (1064/755/532) to address all colors. Although most tattoo devices do not include all three wavelengths, knowing the different types is key to success.
The hands-on portion allows you to practice on real clients who are removing a variety of tattoo types, sizes and colors. You will experience training with the latest laser tattoo removal technology on the market and become familiar with equipment features and settings.
Sample Course Schedule
7 Day JTR
TOPIC/DATE
TIME
ACTIVITY

Comp Didactic

Day 1

9:00am – 6:00pm
Welcome – Hair and Skin

Comp Didactic

Day 2

9:00am – 6:00pm
Laser BioPhysics

Comp Didactic

Day 3

9:00am – 6:00pm
Laser Safety, Intense Pulsed Light

Comp Didactic

Day 4

9:00am – 6:00pm
Laser & Treatment Didactic Education

Comp Didactic

Day 5

9:00am – 6:00pm
CPR, Laser & Treatment Didactic Education

Just Tattoo Removal Clinical Hands-On

Day 6 – Day 7

9:00am – 10:00am
Didactic Education
10:00am – 1:00pm
Laser Clinical Hands-On
1:00pm – 2:00pm
Lunch Break
2:00pm – 6:00pm
Laser Clinical Hands-On
Why Laser Tattoo Removal?
Laser tattoo removal is one of the fast-growing aesthetic procedures, and the percentage of patients demanding tattoo removal continues to rise. Why are people getting tattoos removed? It could be for several reasons. Individuals who received tattoos during their youth may come to regret them, or it could be a tattoo that was a good idea at the time but not so much anymore (like an ex-lover). It may be because they don't want to have to keep covering up tattoos in the workplace anymore.
Laser tattoo removal requires a series of treatments, meaning clients will need more than one procedure to see results. It only takes an average of 5 minutes to perform a laser tattoo removal treatment, which means tattoo removal could earn you nice financial profits. On average, a client may need between 8 and 12 treatments depending, on the size and color of the tattoo. These treatments can cost anywhere between $50 and $200 per session.
Course Objectives
By the end of our laser tattoo removal training, you will be able to:
Explain how tattoos interact with skin and change over time
Demonstrate proper laser tattoo removal techniques
Explain the risks, benefits, and pre- and post-care protocols for tattoo removal
Develop a treatment plan and perform treatments on different skin and tattoo types
Explain the contraindications of laser tattoo removal
Demonstrate safety practices and protocols of laser tattoo removal treatments
Explain the difference between Q-switched lasers and other types of cosmetic lasers
Laser Technician Career Advancement
If your business objective is to pursue a niche career in the exciting laser tattoo removal industry, then our Just Tattoo Removal course is for you! As a with your tattoo removal certification, you will be able to provide these treatments in settings such as laser clinics, medical spas, physician's offices or even open up your own business.
Once your course is over, you will have access to our Graduate Services Department, which is here to set you up for success after you graduate. Our team works around the clock to send out over 500 job leads a month to our alumni nationwide! If you need interview help, our staff will coach, motivate and prepare you for your interviews! We also offer one-on-one resume help sessions too!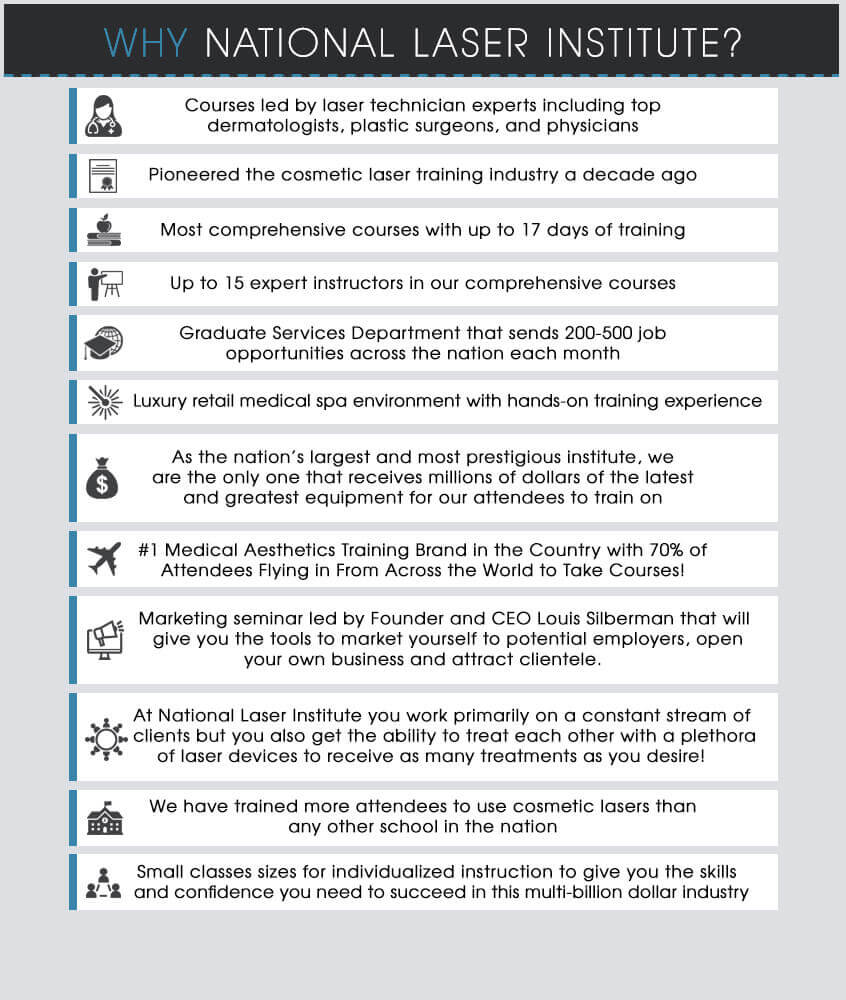 Laser Training Testimonials
National Laser Institute is the leading medical aesthetics school in the nation with over 15 years of experience in the industry. Each year, we train thousands of cosmetologists, estheticians and complete career changers on how to become Cosmetic Laser Technicians. Read what our graduates have to say about their experience with us below!
NLI Student Success Stories
I have been working as a laser technician out in Reno, Nevada. I do everything from tattoo removal to laser hair removal. I have been very successful and love working with lasers. I learned so much by coming to your school. It is one of the best decisions I have ever made. I had the best experience and I tell everyone that wants to get in this field to go to National Laser Institute. All of your staff were so great and so smart. They really do an amazing job. You really do have a wonderful program and it is a dream of mine to teach some day. Thank you so much!
Brooke Daisley
I have been hired as a laser technician in a large medical spa in Anchorage, Alaska doing laser hair removal and tattoo removal. Without the great education and support I received I know I would not have found such a great job! I highly recommend NLI to anyone interested in the field of lasers and feel strongly that my money was well spent!
Mary Ellen Genstler BBA, CLT, LMT, Esthetician
National Laser Institute went beyond my expectations for the laser tattoo removal course. The instructors were simply amazing. Shelley Cook helped me learn the ins and outs of laser tattoo removal. I was surprised at how much practical experience time I received and the variety of different clients that I worked on was great. I can't imagine going anywhere else to learn laser tattoo removal. Thanks, National Laser Institute!
Edwin Miller
View hundreds more medical professional testimonials here!
For more details on our laser tattoo removal training course, please give us a call at 1-480-290-7399 or fill out our form on the bottom.