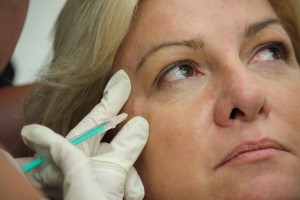 Are you a medical professional seeking Botox injection training? At National Laser Institute, our Botox courses are designed to give medical professionals didactic and hands-on training in an educational setting. The best part: Students can complete their training in as little as a weekend to 15 days!
So why learn Botox? For one, Botox is the leading non-surgical medical aesthetic treatment in the nation. It's been ranked as the #1 noninvasive, cosmetic service in the U.S. for the past decade. In 2016, there were over 7 million Botox treatments performed in the United States alone, with a 4% increase from the year prior.
Another reason Botox is so popular is that it can be performed in an average of 30 minutes or less, making it a simple procedure to schedule in for a majority of clientele. Because Botox averages at $500 per treatment, medical professionals have the opportunity to capitalize on this earning potential by receiving Botox injection training.
Botox Injection Training: What to Expect
Our Botox injection training courses are divided into two parts: classroom education and hands-on clinical training. In the classroom portion of this course, medical professionals will learn everything they need to know about Botox and other cosmetic injectables like Dysport and Xeomin  from industry experts who have years of experience in the field. Topics covered during didactic training include:
History of Botox

Aesthetic overview

Tissue interaction

Client selection

Pre and post treatment care

Injection techniques
During the hands-on training portion of the course, students are put in groups of five, and watch live demonstrations no more than a few feet away from the training bed. They will have the opportunity to perform Botox injections on real clients within an educational setting. Our expert instructors are by your side the entire time in case you have any questions. We want all attendees to benefit from individual attention from the multiple instructors who are training you.
Advanced Botox Training

For medical professional with experience injecting or who have taken National Laser Institute's prerequisite Botox and dermal fillers course, advanced Botox training courses are available. The focus of this course is to understand the art form of these injectables and develop and aesthetic eye.
Students will learn advanced injection techniques such as a non-surgical brow lift, Botox "Lip Pop" and other off-label treatments. 
National Laser Institute is the leading medical esthetics school in the nation and has earned a gold standard of education. The teachers at NLI have been in the industry for years and are the best in the business.
Are you curious what medical professionals are saying about National Laser Institute? Watch our testimonial video below!
If you're interested in learning more about Botox injection training or our other current course options, simply fill out the form on your right or call 800.982.6817.