Advanced Botox and Dermal Fillers Course
Our advanced courses are designed for practitioners who've had experience injecting or those who have previously taken our weekend BOTOX® and Dermal Fillers course.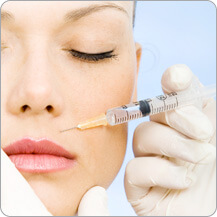 BOTOX® and Dermal Fillers are not just for wrinkles anymore! These days, a rapidly growing number of medical aesthetics practitioners are offering their patients the very latest applications in dermal injections, including the improvement of the drooping nose, non-surgical brow lift, and gummy smile.
Want To Increase Your Current Practice's Revenue Stream?
This is the course for you! We will teach you how to combine BOTOX® and Dermal Fillers during the same visit to maximize patient satisfaction and results.
Learn From The Best!
Our instructors are top in the field and have exceptional skill and experience levels. You will walk away from our Advanced BOTOX® and Dermal Fillers Course with the confidence and expertise to give your patients what they want – a more youthful, attractive appearance without invasive surgery. Face lifts are yesterday, and injectables truly are the wave of the future!
What Does This Course Offer?
Our veteran advanced instructors teach the very latest in advanced techniques for using BOTOX® and Dermal Fillers for total facial rejuvenation. You will learn how to set yourself apart from the competition by incorporating non-traditional procedures that do so much more to restore a youthful appearance than simply getting rid of wrinkles, nasolabial folds, and plumping lips. Our hands-on experience limits group size, ensuring each attendee receives optimal time to practice the techniques presented and build confidence with new skills. Meals and refreshments will be served throughout the day.
Why Is National Laser Institute The Leading Medical Aesthetics Training Company In The U.S.?
Classes Lead By Dermatologists, Cosmetic Surgeons and Leading Industry Physicians
Train On Multiple, Industry Leading Technologies
Luxury, Retail Medical Spa Training Center

Medical Advisory Board With Over 100 Years Of Combined Experience
Business Development/ Marketing Seminars
Featured In The Top National Health and Beauty Publications
Who Should Take This Course?
Our advanced courses are designed for practitioners with experience injecting or for medical professionals who have already taken National Laser Institute's prerequisite BOTOX® and Dermal Fillers course. Our focus is in understanding the art form of these injectable products and developing the aesthetic eye. This creates a more unified approach to patient concerns with the emphasis on facial enhancement rather than just routine filling of lines and relaxing muscles.
What Does The Curriculum Include?
Upon completion of the course, all attendees will possess a full understanding of the various traditional and non-traditional uses of BOTOX® and Dermal Fillers, how to assess patients' individual needs and determine which products are best for them (and where they should be administered), and a thorough proficiency in the various treatment modalities.
Attendees Will Specifically Learn:
Thorough review of the muscles of facial expression as well as the history, safety, side effects and possible contraindications of BOTOX® and Dermal Fillers
The artistic aspect of facial sculpting and replacing facial volume through individual facial analysis and using advanced injection techniques with BOTOX® and Dermal Fillers
About different fillers available to use in the art of facial rejuvenation
How to use BOTOX® and Dermal Fillers to treat cosmetic concerns including traditional areas of treatment, such as glabellla and horizontal forehead lines, as well as bunny lines, pebble chin, gummy smile, vertical lip lines, depressed smile, prominent neck bands and lines, hand rejuvenation, lower eye jelly roll, nasal tip elevation, lip augmentation and more
Extrinsic factors contributing to the aging process
How to perform a non-surgical brow lift (one of the most popular patient requests)
The art of combining BOTOX® and Dermal Fillers during same patient visit for maximum results and patient satisfaction
Review of various techniques including retrograde and anterograde, serial, fanning, and cross-hatching
Avoidance and treatment of potential complications
How to keep proper records, manage patient expectations and deal with complications should they arise
Proper technique of marking and administration of the lower 1/3 of the face
Learn to combine different aesthetic products for the optimal facial enhancement
Review of available anesthetics for pain control
What Injection Sites Are Covered?
Glabella
Lateral brow
Mid-face (including malar and cheek augmentation)
Temporal volumization
Nose augmentation
Marionnette lines
Secondary smile lines
Periol scoulpting
Chin augmentation
Prejowl sulcis
Hand rejuvenation
What Are The Benefits Of This Advanced Course?
Focus is on the art of injectables and developing your own aesthetic eye
6 full hours of hands-on experience
3-4:1 student to instruction ratio during hands-on portion
All instructors have a minimum of five (5-15) years experience in the medical aesthetic industry
Opportunity to inject all 11 areas of the face
Attendees have the opportunity to rotate through and work with all instructors, allowing them to experience different styles of the art of injecting
Each attendee will receive the following:
Detailed course manual
Hands-on as well as didactic classroom time
CME training hours and certification upon completion
Marketing tools including necessary forms for patient history, consent, and policy/procedure
Access to our medical aesthetics library that includes:
Videos of injection techniques
Articles on current trends of dermal fillers, BOTOX® and other procedures in the aesthetics industry
Collection of resources, companies, and contacts in the aesthetic industry
For more information please call us at 800-982-6817 or simply fill out the form at the top.