Here's What You'll Learn During Botox Training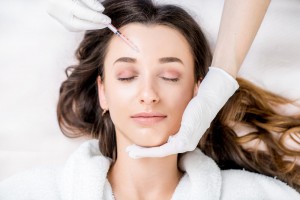 Botulinum toxin type A (Botox) has come a long way since it was first introduced by the Food and Drug Administration (FDA) in 2001.
Fifteen years later, Botox has become one of the most sought-after medical aesthetic procedures with over 7 million treatments and $2.7 billion spent in 2016!
At National Laser Institute, we offer accredited courses for doctors, nurses and other medical professionals seeking practical training for minimally invasive procedures like Botox, dermal fillers, platelet-rich plasma (PRP) and other injectables.
With hands-on training in our educational setting, students will not only learn how to inject Botox but also up-to-date Botox training techniques that will make their clients look and feel their best.
Where Can Botox Be Injected?
One of the first questions prospective patients might ask is: "Where can Botox be injected?" This is a great question! There are three main areas of the face in which Botox injections are commonly used:
Between the brows. Botox is injected directly into the muscles between the eyebrows to reduce the look of frown lines – those two vertical lines between your eyebrows that create an "11" when your face is relaxed.
The forehead. If you notice yourself looking more tired, stressed or, in some cases, angry, then Botox can be applied to the forehead to reduce the appearance of a lined, furrowed face.
Crow's feet. To reduce the appearance of noticeable lines on the side of your eyes that may make you appear older, Botox is injected into the crow's feet to create a younger appearance for your face overall.
And you might have heard about Botox treatments being used to treat excessive sweating. During a hyperhidrosis treatment, doctors administer Botox to the palms of the hands, soles of the feet or the armpits.
This non-invasive procedure is so popular because of its effectiveness. Regardless of whether it's being used to treat migraines or for cosmetic purposes, 95% of patients who have Botox injections are very satisfied with the results!
What is Botox Training?
Botox training is offered at esthetic schools across the country. The programs are designed for doctors, nurses and other medical professionals who are looking to expand their knowledge and skills in cosmetic injectables.
Students who attend National Laser Institute for Botox training not only learn proper injection techniques but also the protocols associated with these treatments.
During a Botox and cosmetic injectables course, you will learn:
Facial anatomy. This is one of the first things you learn in esthetician school. It's important to not only know the proper names of different muscle groups but also their location and function. Often, you will notice a facial injection chart in a doctor's office. This provides doctors with a quick reference tool and helps to explain Botox injections to patients.
How to check labels. While Allergan is the only manufacturer that can produce Botox, there are other manufacturers of the botulinum toxin like Dysport and Xeomin. Each manufacturer has a minimum saline-to-botulism ratio that is important to follow when giving a treatment.
Proper dosage. Botox is not a "one size fits all" treatment, because each patient is different. It's important to measure the correct dosage not only for the correct treatment but also the individual patient. Additionally, gender makes a difference. Men typically have larger muscles than females. Thus they require a higher dose.
Patient assessment. Not every patient is a good candidate for Botox treatments. Some people are more prone to bruising and other side effects. Students will learn the ins and outs of the consultation process, including how to perform the physical examination and interview process.
Advanced Injectable Techniques
We offer an Advanced Botox and Dermal Fillers course designed for doctors and nurses with experience injecting or medical professionals who have completed National Laser Institute's prerequisite Botox and dermal fillers course.
During an advanced Botox and dermal filler course, students will learn:
Off-label type Botox and dermal filler treatments. A Botox "Lip Pop," one of the most popular off-label treatments, is designed to give patients that sexy, pouty, fuller lip that every girl wants.
Botox for an eyebrow arch. Doctors can raise the tail of the eyebrow by injecting Botox into the brow depressors to create an eyebrow lift.
Botox for platysmal bands. Over time, thick vertical platysmal bands often become visible, creating a V-shape from the top portion of the neck to the base. Botox injections can relax this area and soften the neck bands.
Dermal fillers for under the eyes. Dermal fillers are administered to the tear troughs to eliminate those dark circles that come with aging.
Fillers for cheeks. Dermal fillers like Juvederm and Restylane can be used to recontour the face and restore lost volume to the cheeks, cheekbones and chin.
Botox Training at National Laser Institute
At National Laser Institute, our courses are led by industry-leading medical professionals and medical aesthetics experts with 7-20 years of experience in the field.
Our courses are divided into two sections: didactic and hands-on training. During the classroom portion, students learn about facial anatomy, patient selection and pre- and post-patient care. Students are placed in small, intimate groups no more than a few feet from the training bed during clinical hands-on training. They will watch live demonstrations from the instructor, watch their peers perform treatments and inject patients themselves.
When it comes to hands-on training, we set ourselves apart from other schools, because we have a dedicated team that works around the clock to provide students with scheduled clients for real-world experience.
Botox training is a wonderful opportunity for doctors who want to expand their practice and increase revenue by adding Botox/other injectables and laser treatments as they are cash-based procedures. Many RNs take these courses to broaden their skill set and gain supplemental income or start a new full-time career as a cosmetic nurse.
To learn more about National Laser Institute's CME course or other injectable training courses, please give us a call at 800-982-6817, and one of our admissions advisors will be happy to assist you!