What Happens to Our Skin As We Age? Turn Back The Hands of Time With Botox Training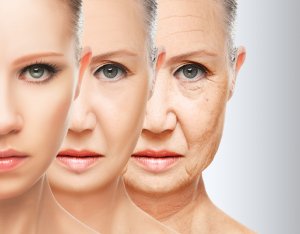 As the old saying goes: "If life is about change, the proof is in our skin."
It can't be denied that our skin changes as we age. The reasons for this are both intrinsic and extrinsic.
During medical aesthetics training at National Laser Institute, you will learn the most common reasons for aging as well as medical aesthetic treatments to slow the aging process.
Extrinsic and Intrinsic Aging
How your skin ages will depend on a variety of factors, including your diet, lifestyle, heredity and other habits. The factors that contribute to why our skin ages falls into two categories: extrinsic and intrinsic. These extrinsic influences are things like the sun's UV rays, gravity, pollution, dry climate and even sleep position.
UV rays and pollution lead to the production of free radicals, which cause damage to the skin cells and results in things like poor texture and brown spots.
The more time these extrinsic factors have to impact our skin, the more sagging, dehydration, brown spots and wrinkles appear.
Intrinsic issues include things like the Fitzpatrick score, decreased hormone production and genetics.
As women enter menopause, for example, they lose estrogen, which causes a decrease in collagen, moisture content and antioxidant protection.
Age and The Skin Layers

During medical aesthetics training you will learn that the aging process affects all three layers of the skin.
As we get older, the epidermis thins and contains fewer melanocytes, which are the pigment-containing cells. The ones that remain enlarge and create sun spots (also known as age spots).
In the dermis, the skin's connective tissue diminishes, reducing its strength and elasticity. This contributes to loose, hanging skin.
Subcutaneous fat is lost from the hypodermis, and this causes the skin to droop or appear wrinkled.
The more time spent doing things like scowling, smiling, smoking, drinking out of straws or raising your eyebrows, the greater chance of developing static lines in those areas.
A Medical Aesthetics Approach to Anti-Aging
During Botox training, you will learn how to turn back the hands of time with a variety of aesthetic treatments. Two of the most popular treatments for anti-aging are neurotoxins (Botox) and dermal fillers.
Botox injections are used to interfere with the ability of nerves to communicate with the muscles. This causes a decrease in muscle movement. When Botox is injected in areas like the forehead, in between the eyebrows and around the eyes, the neurotoxin temporarily minimizes the appearance of fine lines and can stop new lines from forming.
Fillers are used to target and correct areas that have suffered volume loss as fat pads and bone volume decrease. Dermal fillers can also be injected in "off-label" areas like the nose. This is used to correct the drooping that occurs with aging.
Botox Training at National Laser Institute
If you are a nurse, doctor or medical professional who has a passion for helping people look and feel their best, then Botox training might be right for you!
At National Laser Institute, we offer a variety of Botox and dermal filler courses to fit your schedule and learning goals.
Our CE/CME courses are led by industry leading medical professionals and medical aesthetics experts with 7-20 years of experience in the field. Each course is divided into didactic and clinical hands-on training to provide students with the ultimate learning experience.
In the classroom, you will learn about proper Botox and dermal filler injection techniques, facial anatomy, patient selection, and pre- and post-patient care, and more! During hands-on training, you will be placed in small, intimate groups no more than a few feet from the training bed where you will watch comprehensive Botox demonstrations and administer these treatments yourself!
While other medical aesthetic schools have their students do hands-on training on each other, we spend millions each year to book scheduled clients for you to work on in order to gain real world experience in a medical spa setting!
To learn more about National Laser Institute's CE/CME courses or other injectable training courses, please give us a call at 800-982-6817, and one of our admissions advisors will be happy to assist you!