Improve Your Selfies With Medical Aesthetics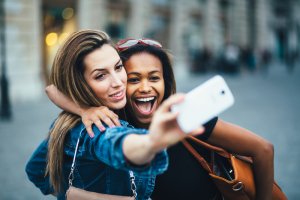 Millennials know that getting the right angle is important. After all, they are considered the "selfie generation."
The good news is you don't have to be an expert contortionist to achieve an Instagram-worthy selfie.
Let's explore four ways to improve your selfies with a little help from the medical aesthetics industry.
How To Improve Your Selfies
Ditch the double chin. Who decided it was a good idea to hold their arm in the air to take a photo from an odd angle? The person who saw a double chin in their social media photos, that is who! Until recently, liposuction was the only option to reduce the appearance of stubborn submental fat under the chin. Kybella is now the only FDA-approved cosmetic injectable to reduce double chin fat permanently. When Kybella injections are used on the upper neck, the membranes of the targeted fat cells are destroyed. This causes the cells to no longer store fat. The destruction of these cells is then followed by the body's natural elimination and healing process. The fat cells are typically removed from the area within four to six weeks after receiving injections.
Lips are in. Full and well-defined lips are one of the most sought-after results for clients in their 20s and 30s. It's also something to consider for older clients who are noticing thinning lips, in addition to other areas of the face. Dermal fillers are used to treat facial lines by adding volume to enhance the appearance of certain facial features. As we age, elastin, the natural collagen in our skin lessens, and the amount of hyaluronic acid decreases, causing lines and wrinkles to develop. Facial fillers lift and smooth out the face by adding a subtle amount of volume.
Say goodbye to wrinkles. Soften harsh wrinkles by using Botox. The botulinum toxin works by softening the muscle activity that contracts the skin and causes wrinkles. Many millennials seek out Botox injections not because they already have wrinkles but as a preventative treatment.
Glow on camera. Rejuvenate your skin and glow on camera after a Halo treatment. Halo is the first and only fractional hybrid* laser available in the medical aesthetics industry. It rejuvenates and renews your complexion through fractional skin resurfacing. After, you can expect to see improvements in overall tone and texture, removal of discoloration, reduction in fine lines, reduced pore size, and skin reflectivity and glow.
Botox Training at National Laser Institute
Are you a physician or nurse interested in increasing your earning potential? It is time to consider the BOOMING medical aesthetics industry.
National Laser Institute offers the most comprehensive, hands-on medical esthetics training courses in the country! In one week or less, you can learn some of the most in-demand cosmetic treatments, including Botox, dermal fillers (Restylane®, Perlane® and Juvederm®), platelet-rich plasma (PRP), Kybella and more!
Each course combines classroom education and clinical hands-on training for the ultimate learning experience. During classroom instruction, you will learn from up to 13 different expert instructors who will teach you things like facial anatomy, proper injection technique, patient care and more!
Clinicals are spent in a medical spa environment where you will be placed in small, intimate groups as you watch comprehensive injectable demonstrations and treat a variety of clients to gain real-world experience.
To learn more about National Laser Institute's Botox and dermal filler courses, please give us a call at 1-480-290-7399 or fill out the form on your right.