Job Outlook for A Career in Medical Aesthetics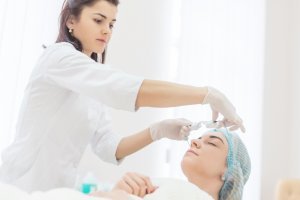 If you haven't heard by now, the medical aesthetics field is a growing industry with no signs of slowing down anytime soon.
Now, more than ever, businesses in the health care industry (and beyond) are looking to add cosmetic laser technicians to their clinics to expand their services offered to patients.
An Increase in Job Opportunities
In March 2017, the U.S. Bureau of Labor Statistics updated its projections for careers in the skin care industry. Approximately 6,600 jobs are expected to be added to the field by the year 2024, which is a 12% increase since 2014.
If you are looking for a new career in medical aesthetics, here are five of the top industries that hire cosmetic laser techs and skincare specialists, according to the U.S. Bureau of Labor Statistics:
Personal Care Services (28,970 jobs)
Offices of Physicians (5,050 jobs)
Health and Personal Care Stores (3,770 jobs)
Traveler Accommodation (2,140 jobs)
Offices of Other Health Practitioners (1,420 jobs)
A Career In Medical Aesthetics
National Laser Institute offers cosmetic laser training, Botox training and medical aesthetics training that can be completed in as little as one to two weeks!
Our Comprehensive Laser Course is the most popular among estheticians and career changers. During this course, attendees will receive hands-on training with some of the most popular cosmetic treatments, including laser hair reduction, laser tattoo removal, non-surgical body contouring (CoolSculpting) and more!
And for the physicians, nurses and medical professionals, we offer Botox training, which includes hands-on instruction with Botox, dermal fillers, PDO threads, Platelet-Rich Plasma (PRP) and other cosmetic injectable treatments.
Each course taught at National Laser Institute consists of classroom (didactic) and clinical hands-on training that will prepare attendees to work in a variety of medical settings, including medical spas, doctor's offices and more! During clinicals, attendees work on scheduled clients in our luxury medical spa setting in order to gain real world experience. Our experienced instructors offer personalized instruction as each student completes each treatment.
If you would like to learn more about our cosmetic laser training or Botox training, please fill out the form to the right or call 800-982-6817 to speak to one of our admission advisors!