How to Become a Laser Technician
Because of the high demand of cosmetic laser treatments, the medical aesthetics industry continues to grow and expand. However, to meet this demand we need an influx in laser technicians who are trained to perform these laser treatments. Many people are under the misconception that you need to be a medical professional in order to receive laser technician education. While that may be true in some states, it's not true for all. There are multiple states across the U.S. that allow cosmetologists, aestheticians and career changers to become laser technicians in order to provide laser treatments for clients.
Research Laser Technician Career Options
The first step to becoming a laser technician is researching your career options. It's best to know as much as you can about the field before jumping into training. You should know that laser technicians have gone forward to work in dermatology clinics, doctor's offices, medical spas, and more. Realize that this is the type of work that requires you to interact with clients while handling state-of-the-art equipment in order to restore confidence in their skin, and be sure that you're just the type of friendly, upbeat people-person for this specific job.
Choose Your Laser School
You don't want to attend just any laser school. Unfortunately, there are some laser schools that scam students by providing them an education that is not accredited or properly certified under specific regulations, which means they are just wasting your time and money. When researching laser schools, be sure to they are reputable, accredited, and give you legitimate certification to go forth and begin working in the industry.
Attend a Laser Training Course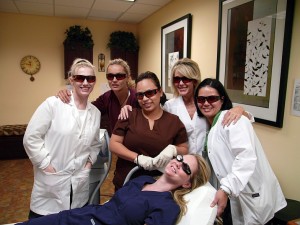 National Laser Institute offers hands-on laser training courses that range from a few days to two weeks with our comprehensive laser training courses. Our most in-demand laser course is our comprehensive course, which covers modalities like laser hair removal, laser tattoo removal, laser acne reduction, laser wrinkle reduction, photofacials, and more. Students will have hands-on training with these treatments within a luxury medical spa setting and learn from experts in the laser field.
Laser Technician Salary
We have been in this industry for a decade and have seen a few different payment styles when it comes to salary. Typically, a laser technician may make between $15-$25 an hour and some are even offered between 3-50% commission. However, some work solely off commission or salary. It all depends on your employer, location, and what treatments you may be providing.
With National Laser Institute, you can complete your laser training at our laser school in two weeks with our comprehensive laser course. We are recognized as gold standard education and have received many outstanding reviews.
To learn more about laser technician training or National Laser Institute, please call 800-982-6817.