last updated: 04/02/2014 by Louis Silberman
Spa services, such as laser hair removal, are part of a booming billion dollar industry. As the economy has continued to improve since 2007, more people are capable of spending money on luxury treatments and pampering to help them unwind from their stressful lives. They also want access to a variety of ways to look younger and more beautiful.Laser hair removal is one way people can accomplish this. When hair is removed via a laser, the change is permanent. The hair that is removed will not grow back because the laser is able to target the pigment of hair within the skin, damaging it at the roots which then prevents it from regrowing. This frees the recipient from having to shave again or deal with unsightly stubble. The procedure is painless and does not take much time to complete.

Laser hair removal technicians are finding that people will pay big money for this service. Esthetic schools and cosmetology schools do not offer laser hair removal training courses. Those who wish to learn these high tech laser treatments must attend a laser school in order to gain proper certification.

Laser schools educate laser technicians on advanced equipment, safety protocols, and knowledge in performing treatments on various clients. They also cover theory, techniques, the Fitzpatrick scale, biophysics, energy and wavelengths, pulse duration, and everything else that goes into shaping a successful laser technician.

Laser Hair Removal Training Can Reap Big Rewards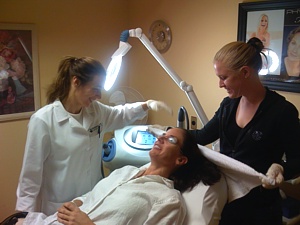 By the year 2016, this industry is estimated to become a 3 BILLION dollar market. Cosmetic laser technology will continue to advance and improve, attracting clients who want to improve their skin. In 2013, over 1 million laser hair removal treatments were performed. This is a rising market that offers versatile career opportunities as well as promising income potential!
Laser hair removal training from National Laser Institute may be for you. Our laser training course is especially useful if you are looking to start a new career or make a career change. It can also be a good idea even if you are already a laser hair removal technician or working in some other area of the spa services industry.
When you receive training from us, you are availing yourself of the best laser hair removal training program in the country. We have been in this industry for over a decade and have leading professionals who teach our courses. It's one of many reasons why we attract students from all over the world. They know our name stands for quality and value.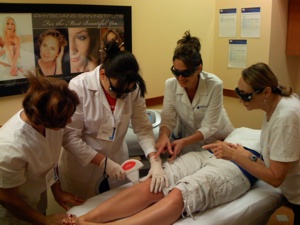 Our training courses offer students both in-classroom training from expert instructors as well as hands-on, clinical training with state-of-the-art laser equipment. We offer this clinical training within our luxury medical spa so students can gain the confidence and skills when it comes to performing laser hair removal treatments on actual clients.
Let us provide you with more information about our comprehensive, hands-on laser hair removal training program. There is no obligation, of course. However, we think you will be excited by what you see.
Learn more about the laser training courses we offer:
We also offer night courses!
To learn more, call us at 1-800-982-6817 or simply fill out our form on your right.
Want to hear from real students who've received laser hair removal training? Watch our video below!
Read more information on: