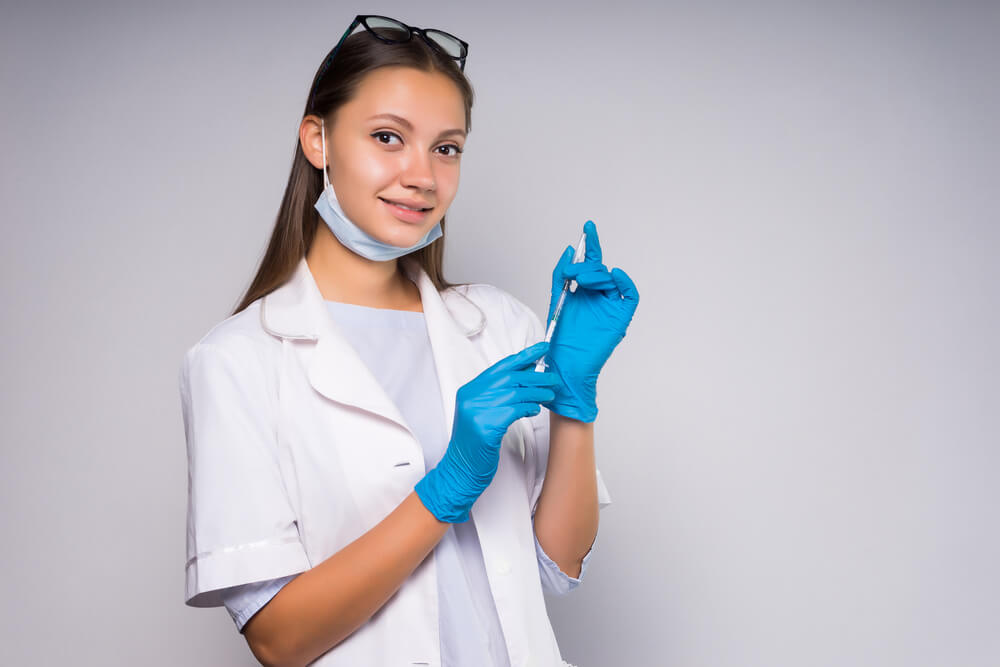 We say this on behalf of all of us: you've given your fair share of enemas. You've also inserted enough catheters, cleaned enough vomit out of your hair, manually handled enough impactions, and watched enough pressure ulcers ooze. As a nurse you battle skin folds and screaming patients. Your scrubs are smattered with unidentifiable biohazards most of the time and you leave work covered in skin flakes; wound care and all that seeps into your life. If you're not grossed out by all of the above, you are most certainly a nurse. If you are a nurse and are grossed out anyway, it's time to try Botox training.
(Consequently, nursing burnout is real for a reason).
It goes without saying that a career change is certainly in order.
Why Botox training?
(Please reference the initial paragraph…)
You're not likely to be asked to dig anything out of anywhere as a cosmetic nurse. Similarly, you undoubtedly won't be asked to obtain sputum or stool samples. The closest you'll get to folds of any kind will be in the form of breakroom croissants.
Nope. Instead, you'll be a certified practitioner in a clean, relatively calm environment. Your pressed scrubs will remain fresh and your sanity intact as you go through the exciting motions of your new career.
Botox training is the right route if you're ready for a change of pace. If you've worked one too many nights or short-staffed one too many times in the hospital, you've come to the right place.
Who can get Botox training?
Not just anyone can administer highly regulated cosmetic injectables. The practice is actually reserved for licensed medical professionals that are required to take and pass Botox certification. Registered nurses, physicians, physician assistants, and advanced practice nurses are among those eligible for taking Botox training. Though the rules are different wherever you go (thus you should always check with regulations where you live and work) it is an industry standard that only medical professionals be allowed to dispense Botox and other cosmetic injectables.
What do Botox nurses do?
Botox nurses (also commonly called aesthetic nurses) work to help their patients feel their best in a way different from their peers employed by hospitals and clinics. Instead of focusing on disease processes and illness, they specialize in cosmetic procedures. Essentially, they pair their medical background with specialized training in cosmetic procedures to administer injectables, laser treatments, and other desired services.
Hence, the lack of stress. They don't confront death and pain on daily basis. In its place they make their clients happier and boost their confidence with the life changing treatments that they administer.
Can you imagine delivering smiles and relief instead of bad news? It may sound like an impossible dream, but it isn't. The work of a cosmetic nurse is rewarding in so many ways.
Botox nurses administer highly commercial services such as Botox (hence the Botox training), dermal fillers, and laser treatments. As experts on skin and skin interactions, they assess clients and give them well-informed, detailed consultations. In the same vein, they tailor treatments for a particular client's needs and desires.
Where do nurses work after Botox training?
Another great thing about becoming a cosmetic nurse, is that there are jobs aplenty. Botox nurses work in niche boutiques, medical spas, physicians' offices, day spas, dermatologists' offices, laser clinics, and fitness facilities. Others can be found in plastic surgeons' offices as well. In short, cosmetic nurses work wherever there is need and demand for cosmetic injectables such as Botox and fillers.
How difficult is Botox training?
The excellent news is that Botox training isn't that difficult. As a nurse, you've passed state boards, you can certainly handle Botox training.
Keep in mind, however, that you want to get the best training possible in order to be the best aesthetic nurse possible. A great school with a great reputation promises to teach you the latest methods and technology to be a successful practitioner in the field of medical aesthetics. National Laser Institute is just such a school.
In fact, in as little as two weeks, you can complete our new Hybrid* Online CME Cosmetic Injection Course and earn your certification!
In a fraction of the time of any of your nursing courses, you can finish and hold your certificate from a prestigious school. You will walk away from our course confident in your training and knowledge of cosmetic injectables.
Botox training at National Laser Institute:
Our CME Hybrid* Online Cosmetic Injection Course includes live and interactive classroom teaching and demonstrations. You will learn from some of the most respected professionals in medical aesthetics including dermatologists, plastic surgeons, seasoned aesthetic nurses and more. Expect to learn all about:
Botox® and Dysport®
Dermal fillers
Advanced injection areas
PDO Threads
Platelet Rich Plasma (PRP)
Kybella®
Sclerotherapy
Attendees will earn CME/CE credits upon completion.
After the didactic portion of the course, you will be invited to practice hands-on skills at one of our nationwide spa locations. As a trainee you will work closely with a skilled expert as you learn the latest injection techniques on actual NLI clients!
An alternative Botox training method:
A second options now part of NLI's docket of offerings. You can now choose from Hybrid* Online coursework (includes hands-on clinicals) or in-person classes.
We are flexible with our course delivery because we understand that you're busy. Moreover, as an existing medical professional, you have work to do. At NLI, we want to help make the transition to aesthetic nurse as smooth as possible for you. Whether you want to do all of your training from home or you'd like to join us in the med spa, we  welcome you!
For a detailed description of our courses, click here to learn more!
In short:
You are a registered nurse. As a result, you are already a member of one of the greatest of all professions. The world needs you and we're so glad to have you. But if it's time to make a change your career, Botox training is the right direction to go. Join the field of medical aesthetics and enjoy the bonuses and perks that come with leaving the hospital or clinic environment. You won't regret the training or the change.
Contact us:
We are ready to help you enroll! Call 480-290-7399 to talk to one of our knowledgeable academic advisors. You can also live chat with us now!
During our CME Hybrid* Online Cosmetic Injections Course you will receive online classroom and demonstrations on:
– Botox
– Dermal fillers
– Off label Botox and fillers
– PRP
– Sclerotherapy
– Kybella
– PDO threads
Then choose one of our nationwide locations to attend your clinicals for hands-on learning,