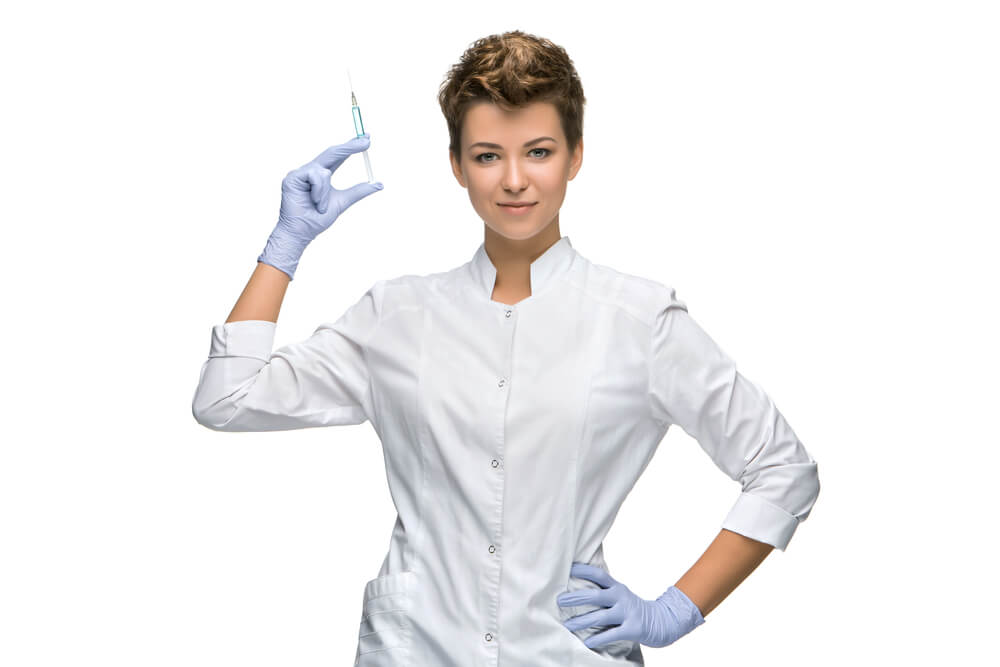 Unless you've been living underneath a rock (or, to be fair, you work on nightshift which sometimes feels like the same thing) you've heard about the burgeoning field of medical aesthetics. Perhaps you've even seen your professional peers make the switch to Botox careers. Many of the nurses you went to nursing school with now post on social media about their fantastic jobs in med spas and posh clinics.
But there you are, still clocking into the graveyard shift at the hospital. You work your latex-gloved fingers to the bone. Your eyes feature dark circles underneath. It has been months since you've had brunch with your buddies.
Cheers, friend. We have a solution.
If you want the freedom, the flexible hours, the great pay and job security that so many of your peers have achieved, it's time to look into Botox careers.
Burned out and tired
Like we discussed, you likely know other nurses and doctors that have crossed over to the dark (light) side of things. Disheartened and tired, many medical practitioners have made a drastic career change for the betterment of both their mental and physical health.
Most of them couldn't be happier with their decision.
Burnout of medical practitioners is a very real, very alarming issue. The very people we need working in hospitals and clinics to keep our society healthy, are losing their own health to the high-stress jobs that they work. This isn't just hearsay either. It isn't a ploy to pull you away from traditional nursing or to redirect you to Botox training or a career in medical aesthetics.
We say this because we all need to hear it.
In fact, Nurse.org offers some shocking statistics. Did you know that as many as 15.6% of nurses admit to being burned out of their profession? They are tired, dread going to work, and disinterested in the vocation that they were once so excited to join. Of the same survey of 2,000 registered nurses, a staggering 41% of respondents admitted to being "unengaged" with their job.
Surely you agree that self-proclaimed unengaged people should not be giving morphine to critically ill patients. They shouldn't be assisting in the operating rooms or taking care of pediatrics on ventilators either for that matter.
Disengagement and disinterest lead to poor care in medical facilities. If you are unhappy and disinterested, you aren't as likely to care about your patient population. The vulnerable patients expecting you to be at your best deserve for you to be mentally present when you care for them.
But we know that there is a lot that contributes to nurses' disengagement. For goodness sake, we ask far too much of our healthcare practitioners. Oftentimes nurses, normal women and men, must be superheroes of sorts. Society demands that as a nurse you better, braver, more willing to self-sacrifice and impenetrable to the stress of brutal work hours and conditions.
In brief, the level of medical professional detachment is far from a mystery. It is understandable and justified. But that still doesn't make it acceptable.
If you are disengaged, make a change. Realize that you aren't alone nor are you at fault. That being said, if you are aware of your disconnection and continue to work in an environment that you can't reattach to, you have allowed yourself to become part of the problem.
You didn't go into healthcare to become apathetic. Remember the practitioner you dreamed of being on the day your graduated. For that person, and for your patients, find a new niche.
You have options. Exercise them!
Botox careers and the medical professionals who love them:
One of your many options (a particularly fantastic one, we might add) is to join the field of medical aesthetics. Botox careers are viable options for nurses wanting to make a career change.
Undoubtedly, the sector of medical aesthetics is full of opportunity. According to Medical Aesthetics Market the actual global aesthetics market is projected to reach more than $17 billion by 2023. The increase of popularity in noninvasive and minimally invasive cosmetic procedures (such as Botox, dermal fillers and laser treatments) has made the market reach new heights financially.
Medical professionals, including registered nurses, physicians and nurse practitioners, are jumping on the noninvasive treatment bandwagon to snag a piece of the pie. Nurses (just like you!) are enrolling in Botox training and getting certified in laser treatments to join the evolving field. They are reaping the benefits as a reward for their forward-thinking career advancement.
Where to work in medical aesthetics:
Now that you've committed (you have, right?) to move from the hospital or clinic setting, you're likely wondering what environment you will work in as an aesthetic nurse. Luckily, you'll  find many options for nursing in medical aesthetics. In fact, Botox careers are in a wide variety of environments.
Under the supervision of a physician, aesthetic nurses work in private practice medical offices, dermatology clinics, plastic surgery settings and medical and day spas.
The money in Botox careers:
We mentioned earlier that medical aesthetics is rising in popularity and taking the beauty world by storm with its noninvasive offerings. Thusly, so are careers in medical aesthetics. There is a need for licensed nurses and doctors in the field and plenty of jobs and benefits.
Botox nurses are paid well for their work. In fact, according to ZipRecruiter, the average annual pay for a Botox Nurse in the United States is $76,714 a year. The site goes on to explain that annual salaries rank as high as $136,000 and as low as $20,500. The majority of Botox Nurse salaries currently range between $49,500 (25th percentile) to $99,000 (75th percentile) across the United States.
There is a great growth rate for cosmetic nurses as well. The field is growing exponentially especially the segment of nurses working in medical aesthetics.
Training for Botox careers:
Truth be told, there are a million and one places to earn certification for your Botox career. But you shouldn't just pick any place (remember, move away from apathy…). Choose a school with the most up-to-date information, techniques, and technology. If you want to learn from the best dermatologists, plastic surgeons, laser experts, and aesthetic nurses in the field, choose National Laser Institute.
At NLI, you will receive unmatched training delivered in a superior manner. Furthermore, you can learn from the comfort of your own home. Our CE/CME Online Cosmetic Injections Course will certainly give you all of the information and training you need to be a successful aesthetic nurse.
While earning CE/CME credits, you will learn about and how to administer Botox and Dysport, Dermal fillers, advanced injection areas, PDO threads, Platelet Rich Plasma, Kybella, and Sclerotherapy.
Your coursework, your choice 
Do you want to complete all of your coursework online? At NLI you can!
Students are welcome to take courses that include both injectable training and cosmetic laser training or can complete only the injectable portion. Training can be completed in as short of a time as a day for basic coursework. A comprehensive, all-inclusive course including injectables and lasers take less than two weeks to complete!
You are the future of medical aesthetics!
Bear in mind that the field of medical aesthetics needs medical professionals like yourself! You are more than welcome to join the elite ranks of nurses and doctors who have found positions in the cutting-edge arena of cosmetic medicine.
Contact us:
At National Laser Institute, we are always happy to answer questions and help guide you through the enrollment process. Call us today at 800-982-6817.
During our CE/CME Online Cosmetic Injections Course you will receive online classroom and demonstrations on:
– Botox
– Dermal fillers
– Off label Botox and fillers
– PRP
– Sclerotherapy
– Kybella
– PDO threads
Then choose one of our nationwide locations to attend your clinicals for hands-on learning!