3 Laser Hair Removal Questions You'll Be Asked as a Laser Tech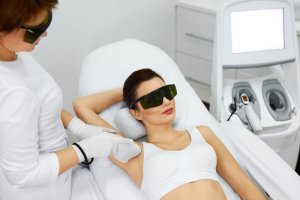 Laser hair removal offers several advantages compared to traditional hair removal methods.
However, first-time clients may not be as familiar with laser hair removal, which means you should expect to answer some common questions throughout your career as a cosmetic laser tech.
Cosmetic laser courses will not only teach you the skills and techniques necessary to become a great laser tech, but it will also provide you with treatment information to answer common laser hair removal questions.
Common Laser Hair Removal Questions
Here are three of the most frequently asked laser hair removal questions you will encounter when working as a trained cosmetic laser tech:
What areas can be treated with laser hair removal?
Any area of the body can be treated with laser hair removal. For women, the most commonly requested areas are the bikini line, the underarms, upper lip, chin, neck and legs. For men: the abdomen, back and chest.
Does laser hair removal work for all skin types?
The lasers used in hair removal technology target the pigmentation in the hair follicles. Typically, brown and black hair is the easiest to remove, because it's darker than the surrounding skin. During training, you will learn how to evaluate if a client is a candidate for laser hair removal by considering skin type, sun tanning habits and exclusionary criteria. Test spots are usually performed to determine if the treatment will be effective.
How long does a laser hair removal appointment take?
Treatment time can vary depending on the size of the area being treated. The upper lip, for example, can be treated in just five to 10 minutes. The back or legs can take up to an hour during a single appointment. Laser hair removal requires multiple sessions because the laser only affects the hairs in the growing stage. Not all hairs will be in this stage at the same time, which is why several treatments are needed to effectively remove all the hair from a single area.
Cosmetic Laser Training at National Laser Institute
At National Laser Institute, we offer cosmetic laser training that can be completed in just two weeks!
Our Comprehensive Laser Course will teach you some of the most in-demand laser treatments such as laser hair removal, IPL photofacial, skin rejuvenation and skin tightening.
To give you the most in-depth learning experience, each of our courses is divided into classroom education and clinical-hands on training in an educational setting. In the classroom, you will learn things like facial anatomy, tissue interaction and laser mechanics. This will prepare you for your hands-on training.
We have a dedicated team that works around the clock to schedule clients for you to gain real-world experience. During clinicals, you will also have the opportunity to watch comprehensive laser demonstrations no more than a foot away from the training bed!
To learn more about National Laser Institute's cosmetic laser courses, please fill out the form on the right or give us a call at 1-480-290-7399.