Photofacial Before & Aftercare Tips You'll Learn During Laser Training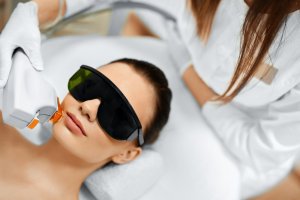 As we age, our skin can begin to look tired and dull, which is why many women have turned to medical aesthetics treatments.
If you are looking to bring back that youthful glow, an Intense Pulsed Light (IPL) photofacial is a great treatment option. It stimulates collagen production while reducing fine lines, dark spots and redness.
But did you know there are certain things you should do before and after a photofacial treatment for the best results?
During one of National Laser Institute's cosmetic laser courses, you will learn patient care for a variety of laser treatments, including photofacials!
What to Do Before a Photofacial
Ask questions. Many first-time photofacial patients inquire about things like cost, how photofacials work and the number of treatments needed for the best results. Laser certification and training will help you understand the consultation process and evaluate clients to see if they would benefit from a photofacial.
Stay out of the sun – including tanning beds. Sun exposure encourages the production of melanin, which could interfere with the effectiveness of the photofacial by "protecting" the skin and absorbing the light's energy.
Avoid blood thinning medication. A week before a photofacial appointment, you should tell your clients to stop taking medications such as aspirin, ibuprofen (generic, Advil, Aleve or Motrin), Vitamin E and fish oil or omega-3s to prevent bruising.
What to Do After a Photofacial
Wear sunscreen. You will learn during cosmetic laser training that the skin becomes sensitive – even during the winter months. It's important to wear a broad-spectrum sunscreen (SPF 30 or higher) daily to protect the skin from the sun's rays.
Let the treated area breathe. As the skin begins to heal, pigments from sun spots and freckles will rise to the surface and become rough. It's important to leave the treated area alone and let the healing process continue naturally.
Use gentle cleansers. Harsh products could potentially irritate the skin and interrupt the healing process. Clients should use gentle cleansers and scentless creams while the skin continues to heal.
Cosmetic Laser Training at National Laser Institute
The medical aesthetics industry is the perfect field if you have a passion for helping others look and feel their best.
National Laser Institute offers cosmetic laser education for career changers or estheticians that can be completed in just two weeks!
Our Comprehensive Laser Course covers the most in-demand laser treatments such as laser hair removal, IPL photofacial, skin rejuvenation, skin tightening and more! The first five days are spent in the classroom where you will learn about laser mechanics, tissue interaction and patient care from up to 13 different industry experts.
During the second half of the course, you will have hands-on training in an educational setting. We have a dedicated team that works to schedule clients for you to work on to gain real-world experience. Our experienced instructors will be by your side to offer personalized instruction in an intimate setting and to answer any questions you might have about the industry.
By the end of the course, you will feel comfortable and confident in your skills and be prepared for a career as a cosmetic laser tech in any medical setting!
To learn more about National Laser Institute's cosmetic laser course options, please fill out the form on the right or give us a call at 1-480-290-7399.