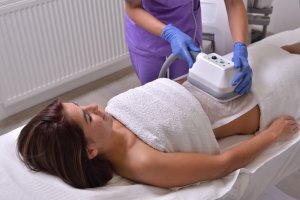 The majority of cosmetic treatments performed in the United States last year were considered minimally invasive and did not require major surgery. While the most common minimally invasive procedures were Botox and dermal fillers, there has been a steady rise in the number of noninvasive fat reduction procedures, also known as body sculpting or body contouring.
These FDA-approved techniques target unwanted fat on a person's stomach, hips and thighs for a toned, sculpted physique. The most popular body sculpting technique, however, is CoolSculpting, a process that involves freezing fat cells beneath the surface of the skin until the cells die and shrink away.
Noninvasive fat reduction is quickly becoming one of the fastest-growing segments of the medical aesthetics industry, which is why there is a need for skin care specialists who are well versed in a variety of cosmetic treatments.
Since CoolSculpting is considered cosmetic, training is a must! National Laser Institute, the nation's leading medical aesthetics training school, offers body contouring classes for people looking to jumpstart their career in this multi-billion-dollar industry!
What Is CoolSculpting?
CoolSculpting uses a method known as cryolipolysis, which uses extreme cold to eliminate unwanted fat cells. This fat freezing procedure, which was discovered by two Harvard University scientists, uses a vacuum to rapidly chill the treatment area and effectively kill the fat cells. Over time, your body naturally eliminates these dead cells, leaving your clients with a more toned, sculpted appearance.
This one-of-a-kind fat freezing procedure is currently FDA-approved to treat nine areas of the body, including the chin, abdominals and love handles. In addition to eliminating unwanted fat in the treated area, CoolSculpting also stimulates collagen production, which increases the skin's ability to bounce back after experiencing sudden fat loss.
Since noninvasive fat reduction is considered cosmetic, proper training is a must! The National Laser Institute offers body contouring classes where you will learn a variety of aesthetic noninvasive fat reduction procedures to address fat and cellulite, as well as several body sculpting techniques to deliver safe and effective treatments.
How To Become A Cosmetic Laser Technician
Body contouring classes are essential for anyone who wants to begin offering cosmetic procedures such as CoolSculpting. These medical aesthetic courses include classroom education and hands-on clinical practice in order for you to feel comfortable and confident in administering a variety of cosmetic treatments.
The National Laser Institute offers body contouring classes where you'll learn how to eliminate unwanted fat as well as body sculpting techniques to deliver a safe and effective treatment to your future clients.
In the classroom, your instructor will lead in-depth discussions about topics such as the theory and science of body contouring, why cellulite develops, body sculpting techniques and the consultation process. What you learn in the classroom will help prepare you for clinicals, where you will put your new skills to the test as you treat clients in order to gain real-world experience with noninvasive fat reduction procedures.
By the end of a body contouring class at National Laser Institute, you will be able to:
Explain the factors that lead to excess cellulite development in the body
Understand the current body sculpting technologies that exist in the marketplace
Discuss how these modalities can be used with other treatments for optimal results
Explain pre- and post-treatment protocols
Demonstrate various noninvasive fat reduction procedures
Body Contouring Classes at National Laser Institute
If you're ready for an exciting career opportunity, the National Laser Institute offers body contouring classes that can be completed in less than two weeks!
For a comprehensive learning experience, our medical aesthetics courses supplement classroom education with hands-on clinical training so that you feel comfortable and confident in the new skill set you've learned.
Classroom education includes in-depth discussions about clinical applications in the industry, various body sculpting techniques and how to conduct the consultation process. What you learn in the classroom will help prepare you for clinicals, which take place in a medical spa environment.
During hands-on training, you will be placed in small, intimate groups and take turns treating real clients that we schedule for you. Your instructor will also demonstrate how the procedures are performed as well as offer one-on-one instruction while you are in the treatment room.
One of the things that separate the National Laser Institute from other medical aesthetics schools is we have a Graduate Services Department that sends out over 500 job leads a month to our alumni! Previous students are currently working in laser & niche clinics, medical spas, physician's offices, salons, fitness centers and more!
Join us for our new online "hybrid*" course that you can attend from the comfort of your own home by simply using your phone or computer! During our Hybrid* Online Comprehensive Laser Course you will receive a combination of online classroom laser training and clinicals with a variety of instructors and live demonstrations with several hours on each modality. Modalities include Laser Hair Removal, Photofacial, Laser Skin Rejuvenation, Radiofrequency Skin Rejuvenation, Coolsculpting, Cellulite Reduction, Tattoo Removal, Radiofrequency Skin Tightening, and Microneedling. 
To learn more information about laser training course options at National Laser Institute, fill out the form on the right or give us a call 1-480-290-7399 to speak with an Admissions Advisor.