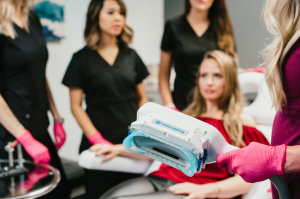 Did you know that in 2017, millions of Americans spent $68.2 billion on weight loss programs, products and regimes?
Non-invasive fat reduction is the fastest-growing segment of the medical aesthetics industry which is why businesses are looking to hire skin care specialists who are well versed in several body sculpting techniques.
Before you can begin offering body contouring treatments to clients, you must complete a medical aesthetics course. National Laser Institute, the nation's leading medical aesthetics school, offers body contouring training for those looking to start a new career opportunity as a cosmetic laser technician in the $16 billion industry!
What Is Body Contouring?
Body contouring is a term used to describe several cosmetic treatments designed to reshape and improve the appearance of the body. Non-invasive fat reduction eliminates stubborn pockets of fat to contour different areas of the body.
During body contouring training, students will learn several body sculpting techniques, including cryolipolysis (controlled cooling) and radiofrequency lipolysis (controlled heating and ultrasound).
Students will receive hands-on training with the most popular body contouring treatment, CoolSculpting. With over 7 million treatments and counting, CoolSculpting is a non-invasive fat reduction treatment that stems from the concept of cryolipolysis, which is how CoolSculpting works. Cold temperatures target and destroy fat cells, which are flushed out of the body naturally via the lymphatic system.
CoolSculpting has the ability to target smaller areas of fat such as the abdomen, love handles, muffin top, inner and outer thighs, back, upper arms, double chin and more! This fat freezing technology isn't limited to targeting unwanted fatty areas; it also stimulates new collagen and elastin fiber generation to improve overall aesthetic results.
Become A Cosmetic Laser Technician
Body contouring training is essential for anyone who wants to become a cosmetic laser technician and offer cosmetic procedures such as CoolSculpting. These medical aesthetic courses include classroom education and hands-on clinical practice for students to feel comfortable and confident in administering a variety of aesthetic treatments.
The National Laser Institute offers body contouring training where you'll learn how to eliminate unwanted fat, as well as body sculpting techniques to deliver a safe and effective treatment to your future clients.
The classroom portion of our course will prepare you for hands-on clinical training. You will also have discussions about the medical aesthetics industry and what to expect once you become a cosmetic laser technician. Topics include:
Theory, science and practice of body contouring
Factors that lead to excess fat and cellulite development in the body
Patient qualification and consultation
Body sculpting techniques
Potential side effects and how to manage them
Body contouring training also includes hands-on training in a medical spa environment. Here, students will put their new skills to the test as they watch comprehensive non-invasive fat reduction demonstrations and treat scheduled clients to gain real-world experience.
Body Contouring Training
If you are ready for an exciting career opportunity, the National Laser Institute offers body contouring training for those looking to become a cosmetic laser tech!
With over a decade of excellence, our non-invasive body shaping courses combine classroom education and hands-on clinical training for the ultimate learning experience.
During a body contouring course, students learn the most popular non-invasive fat reduction treatments, helping clients achieve the body that they've always wanted! Classroom instruction provides you with in-depth knowledge of how lasers work, clinical applications, body sculpting techniques and laser safety. Clinicals take place in a medical spa environment where you'll watch comprehensive demonstrations and treat real clients to gain hands-on experience!
One of the things that separate the National Laser Institute from other medical aesthetics schools is we have a Graduate Services Department that sends out over 500 job leads a month to our alumni! Previous students have found work in laser & niche clinics, medical spas, physician's offices, salons, fitness centers and more!
To learn more information about our laser training courses, fill out the form on the right or give us a call 1-480-290-7399 to speak with an admissions advisor.