Microneedling Training For Estheticians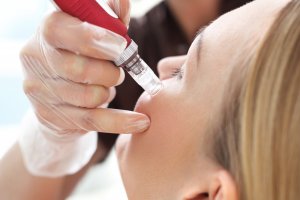 It's time to face the facts: Aging is a natural process that's not always easy to pinpoint when it begins.
For most women, signs of aging typically crop up around the late 30s. This is when fine lines and wrinkles appear on the forehead and around the eyes, the skin becomes less elastic, and brown spots and broken capillaries from years of sun damage become visible.
Microneedling is a minimally invasive procedure that has been taking the medical aesthetics industry by storm! Collagen induction therapy has several anti-aging benefits and can be combined with other skin rejuvenation methods for amazing results.
If you are ready to incorporate one of today's most highly requested treatment into your skill set, training is a must! The National Laser Institute offers microneedling training for estheticians where students will learn the ins and outs of collagen induction therapy, as well as microneedling techniques for optimal results.
What Is Microneedling?
Also known as collagen induction therapy or micropuncture, microneedling treatments use a pen-shaped device studded with 12 fine needles that are passed over the treatment area. The needles break down skin tissue, causing micro-injuries beneath the epidermis, which stimulates the body's natural healing process and collagen production. This results in younger, healthier looking skin.
Microneedling can be used alone or paired with serums that are infused deeply into the skin. The most popular serum used with this treatment is hyaluronic acid, which adds moisture and reduces wrinkles. Other serums include vitamin C, skin lighteners and various acne-fighting ingredients.
Not only does collagen induction therapy alleviate fine lines and wrinkles, but it also lifts and tightens the skin for ultimate skin rejuvenation. This is a desired esthetics procedure with many benefits that can address acne, hyperpigmentation and rough skin texture. The treatment can be applied anywhere on the face or body and even the scalp to slow down and combat hair loss.
While microneedling is an effective treatment on its own, the results can be enhanced when paired with Platelet-Rich Plasma (PRP) injections or Intense Pulsed Light (IPL) for exceptional results.
During microneedling training for estheticians, students take part in hands-on clinical training where they will learn microneedling techniques for optimal results as well as treat scheduled clients for real-world experience. Before clinicals, students will participate in classroom education and cover topics like:
How sun, acne and aging damage the skin
Protocols for client preparation
How microneedling can be combined with anti-aging and skin improving serums
Understand how microneedling can be used to smooth and tighten skin
Microneedling techniques for optimal results
At the completion of your medical aesthetics course, you'll have the tools, knowledge and confidence to perform safe and effective microneedling treatments on a variety of clientele.
Microneedling Training For Estheticians
Non-invasive treatments are one of the fastest growing segments of the medical aesthetics industry which is why many businesses are looking to hire skin care specialists who are knowledgeable about anti-aging treatments such as microneedling.
If you are looking for a new career opportunity where you can advance your skills, the National Laser Institute offers microneedling training for estheticians.
With over a decade of excellence, we've taught countless estheticians, cosmetologists and complete career changers how to master the art of microneedling in addition to several other cosmetic treatments.
During microneedling training for estheticians, students take part in classroom education where they learn why aging occurs, patient care, microneedling techniques for optimal results and so much more! Clinicals take place in a medical spa environment where you'll watch comprehensive microneedling demonstrations and treat real clients to gain hands-on experience!
One of the things that separate the National Laser Institute from other medical aesthetics schools is we have a Graduate Services Department that sends out over 500 job leads a month to our alumni! Previous students have found work in laser & niche clinics, medical spas, physician's offices, salons, fitness centers and more!
To learn more information about medical aesthetics courses, fill out the form on the right or give us a call at 1-480-290-7399 to speak with an admissions advisor.