Cellulite Reduction Training in Arizona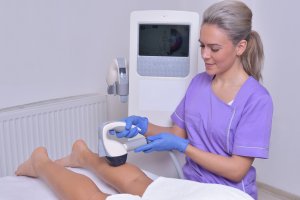 Some call it an orange peel. Others think it looks like cottage cheese. But whatever you call cellulite, chances are you have it somewhere on your body!
With bikini season right around the corner, many individuals are looking to achieve a toned, contoured body.
Thanks to non-surgical technologies and affordable treatment options the medical aesthetics industry has to offer, skin care specialists can address the causes of cellulite, or the fat beneath the skin, helping to restore a smoother, firmer texture to the surface of the skin.
Before you can even begin offering non-invasive body shaping treatments to clients, you need to complete a medical aesthetics course. National Laser Institute offers hands-on body contouring training and cellulite reduction training in Arizona to estheticians, cosmetologists and complete career changers looking learn cellulite reduction techniques and start an exciting career as a cosmetic laser technician.
What is Cellulite?
Cellulite is a common condition in which the skin has a lumpy, dimpled appearance. It occurs when fat cells become over-inflated and protrude through the connective tissue causing an "orange peel" or "cottage cheese" appearance.
The severity of cellulite can often depend on factors such as genetics, hormones, metabolism and the level of physical activity. Cellulite is more common in women than in men since a woman's fat is typically distributed in the buttocks, hips and thighs.
During cellulite reduction training in Arizona, you'll learn why cellulite occurs as well as cellulite reduction techniques to help clients achieve the sculpted body that they always wanted! Your course will also include hands-on clinical training where you'll treat a wide variety of clients in a medical spa environment in order to gain real-world experience.
How is Cellulite Treated?
Non-invasive body sculpting and cellulite procedures have been used for several years to reduce the appearance of cellulite and fat cells. Some treatments require 10 to 15 sessions and monthly maintenance appointments. Other techniques are more expensive and the results lasting six months to a year.
Since cellulite reduction is a medical aesthetics treatment, proper training is a must! The National Laser Institute offers cellulite reduction training in Arizona where you'll learn non-invasive body shaping procedures to address cellulite, as well as several cellulite reduction techniques to deliver effective treatments.
Several laser manufacturers offer devices FDA-approved for the reduction of cellulite. During cellulite reduction training in Arizona, you'll learn a popular cosmetic treatment called VelaShape, which combines mechanical tissue massage, radiofrequency technology and infrared light to treat cellulite.
A non-invasive body contouring device, VelaShape uses elos™ technology to target and heat fatty tissues within the treatment area. A handheld device delivers vacuum and tissue manipulation to the skin, evening out its texture to reveal a smoother, tighter figure.
This one-of-a-kind cellulite reduction treatment improves skin texture, as well as reduce the appearance of cellulite and target localized fat deposits found in the thighs, buttocks, arms, abdomen, calves and more.
Cellulite Reduction Training in Arizona
Are you looking for a new and exciting career opportunity? The National Laser Institute offers cellulite reduction training in Arizona that can be completed in just two weeks!
With over a decade of excellence, our non-invasive body shaping courses combine classroom education and hands-on clinical training for the most comprehensive learning experience. We want you to feel confident in the skills you acquire during your training course.
Our Comprehensive Laser Course is the most popular among students and covers the most popular anti-aging skin treatments: laser hair removal, laser tattoo removal, fat and cellulite reduction, body contouring, IPL photofacial and so much more!
Classroom instruction provides you with in-depth knowledge of how lasers work, clinical applications, cellulite reduction techniques and laser safety. Clinicals take place in a medical spa environment where you'll watch comprehensive laser demonstrations and treat scheduled clients for a real-world experience!
One of the things that make the National Laser Institute unique is we have a Graduate Services Department whose sole mission is to help you land a job after you graduate. They send out over 500 job leads a month to our alumni across the country. Previous students have found work in laser & niche clinics, medical spas, physician's offices, salons, fitness centers and more!
For more information on medical aesthetics training courses, fill out the form on the right or call 1-480-290-7399 to speak with an admissions advisor.