Learn How To Treat Spider Veins During Laser Training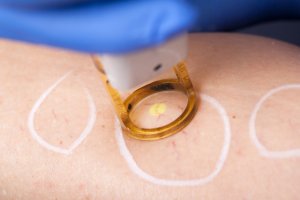 With warm weather just around the corner, women everywhere are counting down the days until they can wear summer dresses and show off some serious legs for days. But for some, visible veins are holding them back, and they worry about stepping out in public in shorts, dresses or swimsuits.
As a future cosmetic laser technician, you can offer your clients laser treatments for spider veins and help them regain confidence in their skin!
Anyone who has a passion for health and beauty is capable of becoming a laser tech and learn how to treat spider veins after attending a medical aesthetics course at the National Laser Institute.
In just two weeks, you'll learn how to zap spider veins away, among other aesthetic treatments, in an educational training environment where you will acquire the confidence and skills to become a medical aesthetics provider!
As the medical aesthetics industry continues to grow, businesses are incorporating skin care specialists to provide laser treatments for spider veins and other skin conditions.
How Do Lasers Treat Spider Veins?
Commonly found on the face and legs, spider veins are caused by the expansion of a small group of blood vessels near the skin's surface. Spider veins look like a sunburst or web pattern that looks red, blue or purple. When spider veins occur on the face, they are called telangiectasias and occur due to chronic sun exposure or extreme temperatures.
There are several machines on the market designed for spider vein removal. Longer wavelength lasers are used for larger veins while shorter wavelength lasers are used for more superficial veins. Regardless of the machine used, the laser spider vein treatment process is quite simple:
The laser is applied to the skin over the spider veins.
The light energy is absorbed by the hemoglobin in the blood.
The blood in the spider veins is vaporized.
The vein collapses and is absorbed by the body.
A laser treatment for spider veins is beneficial for veins that are too small to be treated with Sclerotherapy. In order to zap spider veins away, the vein must be smaller than 3-mm in diameter for the procedure to be effective. Laser therapy is an excellent option for treating delicate areas such as the face or people allergic to the injection solution.
During didactic education, you'll learn everything you need to know about how to treat spider veins, including the types of veins that can be treated with lasers. Your instructor will also discuss things like the consultation process, patient care, contraindications as well as potential side effects and how to treat them.
Learn How To Treat Spider Veins
Are you looking for a new and exciting career opportunity in medical aesthetics? Learn how to zap spider veins away during medical aesthetics training for estheticians, cosmetologists and complete career changers.
With over a decade of excellence, the National Laser Institute offers medical aesthetics courses that can be completed in just two weeks. Each course combines didactic education and hands-on clinical training for the ultimate learning experience!
Our Comprehensive Laser Course is the most popular and will prepare you for a career as a cosmetic laser technician. You'll learn how to treat spider veins, as well as other cosmetic procedures like laser hair removal, laser tattoo removal, skin tightening, body contouring (CoolSculpting) and so much more!
Classroom instruction is designed to give you in-depth knowledge of skin care mechanics like how lasers work, clinical applications and laser safety. This will prepare you for clinicals, which takes place in a medical spa environment. You'll have the opportunity to watch comprehensive demonstrations of laser treatments for spider veins, as well as treat real clients that we schedule for you!
By the end of medical aesthetics training, you'll feel comfortable and confident in your newfound skills to zap spider veins away that you will be able to go on and work for a medical spa, physician's office, niche clinic and even fitness centers.
We invite you to check out tens of thousands of National Laser Institute reviews from previous students like Britt L. who attended one of our cosmetic laser courses. You can hear about her training experience in the video below!
For more information on medical aesthetics course options at the National Laser Institute, fill out the form on the right or call 1-480-290-7399 to speak with an admissions advisor.