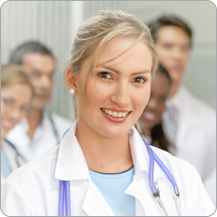 Even in a recessed economy, the medical aesthetics industry is positively booming right now with more than 30 million procedures involving laser hair removal performed in the United States last year alone. If you have considered laser training as a new career, or if you are already an aesthetician and understand that adding laser training to your skill set is a surefire way to increase your revenue, then laser training at the National Laser Institute is the place for you!
If you are concerned that becoming a cosmetic laser technician will take months and months of laser training, don't worry! Did you know that you do not even have to be a trained aesthetician to become a cosmetic laser technician? Anyone with any type of professional background may become a cosmetic laser technician and in only two weeks' time, or less!
Laser School Training – The Best is Available to You
National Laser Institute combines superlative classroom training with both observation and hands-on experience in our sister medical spa, located directly on our beautiful campus. We are knowledgeable of all states' requirements for laser operation and are happy to answer all of your questions. It is our goal to ensure you will be fully and properly trained and ready to jump start your exciting new career!
Don't wait another day! Contact us at 480-290-7399 or fill out the form on your right for more information about our laser school training. You will be glad you did!