The Different Types of Cosmetic Laser Treatments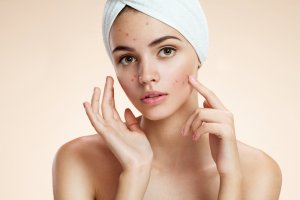 For many men and women, unwanted body hair, age spots and acne may leave them feeling self-conscious about their looks.
Recent advances in the medical aesthetics industry and laser technology offer more treatment options than ever before.
The American Society of Plastic Surgeons (ASPS) reported that laser hair removal treatments have increased by more than 50 percent since 2000!
What is a Laser Treatment?
The word "laser" is an acronym that stands for light amplification by stimulated emission of radiation. In simpler terms, a laser is a single-wavelength source of high-energy light transmitted onto a small area.
There are two types of lasers used for aesthetic purposes: ablative and non-ablative lasers.
Lasers are monochromatic, meaning a laser emits light of only one wavelength. In cosmetic applications, lasers use a process called selective photothermolysis.
What Can Cosmetic Lasers Treat?
Cosmetic lasers address a variety of skin conditions and concerns. They are commonly used to:
Remove unwanted hair.

The "anti-hair" movement isn't anything new. For years, women have turned to waxing and shaving to get rid of unwanted hair. Recent studies have shown

99 percent

 of women voluntarily seek hair removal. A laser hair removal treatment works by utilizing beams of highly concentrated light to destroy hair follicles. Cosmetic lasers are useful for removing unwanted hair from the face, leg, arm, underarm and bikini line.
Erase sun damage and dark spots. Sun damage and dark spots are common skin issues that may leave clients feeling self-conscious. These skin concerns can be treated with Intense Pulsed Light (IPL). Without damaging the skin, the light penetrates through the skin and is absorbed by the dilated vessels, pigmentation or water. The heat causes damage to the vessel, pigmented lesion or hair, and the body begins its natural healing process.
Reduce acne scars. For many teens, acne can be unpleasant and sometimes embarrassing. Approximately 80 percent of people between 18 and 30 have acne outbreaks. IPL lasers treat acne by reducing the appearance of acne scars.
Aid in skin tightening. Most cosmetic lasers provide at least some level of superficial tightening because they produce a controlled injury to the skin, which encourages collagen production. However, there are specific treatments dedicated to skin tightening.
Cosmetic Laser Training at National Laser Institute
Are you ready to enter the exciting medical aesthetics industry? Take the first step towards a lucrative career by enrolling in laser training courses at National Laser Institute!
Our Comprehensive Laser Course combines didactic education with hands-on training for the ultimate learning experience.

In the classroom, you will learn about disorders of the skin, the Fitzpatrick scale, laser biophysics, tissue interaction, patient care and more. Clinicals will take place in a state-of-the-art medical spa environment where you will work on scheduled clients to gain real-world experience.

To help you with your job search, our Graduate Services Department sends out over 500 job leads a month to alumni across the country. Previous students have found careers working in laser and niche clinics, medical spas, physician's offices, salons, fitness centers and more!
We invite you to check out tens of thousands of National Laser Institute reviews from previous students like Britt L. who took our cosmetic laser course in Chicago. You can hear about her training experience in the video below!
If you would like to learn more information about National Laser Institue's course options, fill out the form on your right or call 1-480-290-7399.