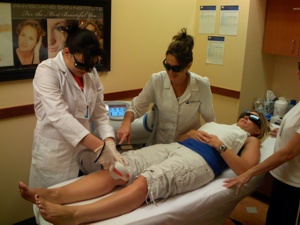 Although there are many places out there that will provide hair removal training, not all are equally qualified to do so. There are many things to consider when determining which school to attend: quality of education, courses taught, cost, time commitment, and for some, location is also a key factor. You are about to make an important investment in your career, and you want all your questions answered before plunking down that hard-earned cash.
Hair removal isn't just about waxing, tweezing, or shaving. In fact, laser hair reduction is one of the top nonsurgical cosmetic treatments in the nation. In 2013, there were over 1 million laser hair reduction services in the U.S. alone according to the ASAPS. 87% of people who receive laser hair reduction would do it again. It make sense. Why spend time and money shaving or waxing when you can permanently reduce unwanted hair?
In most states, you do not have to be a medical professional to become a laser hair reduction technician. Anyone who has earned a high school degree or GED can apply for enrollment! Laser schools have one of the shortest training programs out of many trade schools out there. In two weeks you're capable of earning your certification whereas aesthetician school takes roughly 6-12 months.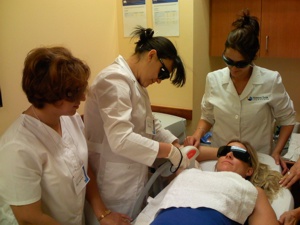 At National Laser Institute, we are here to answer all of your questions regarding hair removal training. We our proud to say that our school is not only certified and considered one of the top schools of its kind in the country, we also serve as a paradigm for other schools in the industry. Our students come to us from all over. We are prepared to give you the knowledge you need to work as a certified laser technician, whether you are currently a licensed aesthetician or a plumber, and whether you live in Arizona or South Dakota.
Hair Reduction Training – Other Facts to Consider
If you are looking at a number of different laser training schools, good for you! It is crucial that you feel comfortable in your decision making process, and the only way to do that is to do your research. But ask the other schools whether they offer both classroom and observation/hands-on training in a real medical spa, housed in the same beautiful building as the school? Do they provide laser technician certification? Laser Safety Officer certification? Additional classes in laser/IPL/spa marketing techniques such as how to run your own business and finding your niche? Do they offer night classes, a Graduate Services Department that provides hundreds of job leads, or an online medical esthetic library with thousands of pages of resources? We do, plus more!
Please contact us at 1-800-982-6817 or fill out the form on your right for more information on hair removal training. We are ready to answer all of your questions!
Thinking of making a huge career change? A huge percent of our students who attend NLI come from a completely different career. Don't feel like you're alone in wanting a change in your life. In fact, you can watch our video below to see our own student success stories and where these graduates are working now!