Is Laser Training Right For You?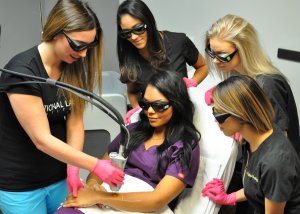 Due to the high demand for laser treatments, the medical aesthetics field is continuing to grow.
Most people are under the impression that a medical degree is required to become a cosmetic laser technician, but this is simply not true.
While some states have stricter regulations than others, in most cases all you need to be is a cosmetologist, esthetician or a person with a passion for helping others feel their best.
Is Laser Training Right For You?
The medical aesthetics industry has a bright future. Americans spent over $16.7 BILLION in 2017 on cosmetic procedures, ranging from laser hair removal to Botox, due to affordable treatment prices and advances in laser technology. As the industry continues to grow, there's a high demand for skin care specialists. An estimated 6,600 new jobs are expected to be added by the year 2024.
You should receive your laser certification if you truly have a passion for the health and beauty industry. If you are thinking about getting into the field simply because you think you will make lots of money, then medical aesthetics might not be the right fit. Those who succeed in this industry genuinely want to help others look and feel their best.
Anyone operating a cosmetic laser should have a thorough understanding of laser physics to deliver a safe and effective treatment. Therefore, laser training for estheticians, cosmetologists and complete career changers is essential.
Students enrolled in medical aesthetics courses receive hands-on clinical training, which provides them with real-world experience in an educational environment. At National Laser Institute, clinicals take place in a medical spa environment where you will treat real clients that we schedule for you! Our experienced instructors will be by your side to offer one-on-one instruction in an intimate setting and answer any questions you might have about the industry.
Laser Training at National Laser Institute
Are you looking for a new and exciting career opportunity? Speak with an admissions advisor to learn why you should enroll in laser training!
National Laser Institute offers cosmetic laser training for estheticians, cosmetologists and complete career changers that can be completed in just two weeks.
Our Comprehensive Laser Course is our most popular course and will prepare you for a career as a cosmetic laser technician. The course combines classroom education and hands-on clinical training for the ultimate learning experience!
Classroom instruction is designed to give you in-depth knowledge of skin care mechanics like how lasers work, clinical applications and laser safety. This will prepare you for clinicals, which takes place in a medical spa environment. You will learn cosmetic procedures like laser hair removal, tattoo removal, skin tightening, body contouring and more!
By the end of the course, you will feel prepared to confidently administer laser treatments for any skin type in a variety of medical aesthetic setting, including medical spas, physician's offices and niche clinics.