Laser Tattoo Removal Treatments Increase 10% in 2013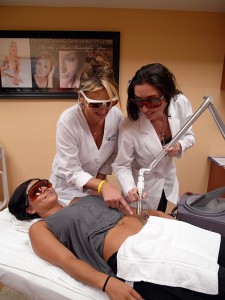 Laser tattoo removal has become a service many have heard of and a treatment that thousands upon thousands of people have received over the years. According to the American Society of Aesthetic Plastic Surgery, laser tattoo removal has increased 10% throughout 2013. Each year there are hundreds of thousands of laser tattoo removal treatments performed in the United States alone.
What makes this treatment so highly in demand? Well, after a series of treatments your unwanted tattoo is completely gone. Also, you don't have to keep spending money on makeup to cover it or creams that say they'll make it disappear but show little results. Cosmetic lasers are capable of only targeting the pigment of the ink deep within the skin. The laser then breaks it up into microscopic fragments which are flushed out through your body's lymphatic system. This is what fades your ink and eventually makes it disappear.
Because of the increasing demand for laser tattoo removal, there has also been a demand for laser tattoo removal training. In most states you do not need to be a medical professional to perform laser tattoo removal. Aestheticians, cosmetologists, and even career changers are capable of attending tattoo removal training to become properly trained.
You may be thinking, but I don't have time to go back to school! But unlike aesthetician school, you don't need 6 – 12 months of training. In fact, you can take our tattoo removal certified training in two weeks or less with National Laser Institute.
Tattoo Removal Training with National Laser Institute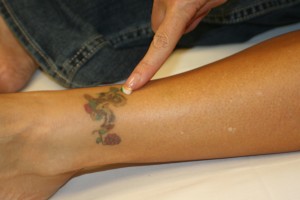 National Laser Institute has a tattoo removal training course that solely focuses on laser tattoo removal, and we also have a comprehensive laser course that not only includes tattoo removal training but also laser hair reduction, radiofrequency skin tightening, IPL photofacials, acne therapies, laser stretch mark reduction, and much more.
As our most comprehensive course, you will receive both classroom and clinical education. Our classes are taught by leading laser technicians and experts within the medical aesthetics industry, all who have been in this market for years. You will work hands-on with real tattoo removal clients using state-of-the-art technology. Our class sizes are kept small so that everyone can work on many clients and receive individualized attention and help if needed!
National Laser Institute was the first to pioneer the laser training curriculum and has been in this industry for over a decade. We offer CE/CME credits to medical professionals and our Graduate Services Department, which provides 100-200 job leads each month, and our online medical aesthetic library for your complete access upon your graduation! We also offer night classes.
Learn More with Our Webinars!
Are you wanting to learn a little more about National Laser Institute or the cosmetic laser industry? Each month we offer free, live webinars hosted by President and Founder, Louis Silberman as well as a variety of expert laser technicians. We provide live demonstrations, the latest industry trends and information, our course information, and a live Q&A where you can ask any questions you may have.
Sign up for our next webinar to learn more! You can also view our sneak peek webinar video below.
Read more information on: