Finding a New Career in Medical Esthetics
As we continue to grow, sometimes our passions shift or change. What we once thought was our dream job has may be more stress than it's worth. Maybe we're just tired of doing the same thing for several years, or maybe our career isn't what we thought it would be. But most of us find ourselves thinking, is it too late to find a new career? Am I stuck in this for the long run? 
The beauty of medical esthetics is that it takes two weeks to gain the certification to start fresh in a billion dollar industry. Not just a billion dollar industry, but a TEN billion dollar industry. If you have a passion for helping people feel better about themselves and enjoy new and advanced technology within the ant-aging industry, then medical esthetics may be for you.
Medical esthetics refers to noninvasive anti-aging treatments, like laser hair reduction, laser tattoo removal, Botox, dermal fillers, laser skin rejuvenation, and more. In most states, you simply need your high school diploma or GED to become trained to fire a cosmetic laser. It only takes a two week comprehensive training course to earn your medical esthetics certification, helping you take a step in your next career direction and presenting you with many exciting opportunities!
Medical Esthetics Training with NLI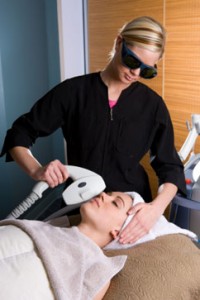 National Laser Institute is the leading medical esthetics school in the nation and has been providing over a decade of educational excellence. We offer a comprehensive laser training course for career changers seeking a new direction. This two-week course includes hands-on training with laser hair reduction, IPL photofacial skin rejuvenation, radiofrequency skin tightening, laser tattoo removal, acne therapies, laser stretch mark reduction, and much more.
This course is taught by leading experts and medical professionals in the field. The classroom portion is where you will learn all about the Fitzpatrick scale, tissue interactions, and the importance of safety. You're also learning in our luxury medical spa where your clinicals will be performed. Here's where you'll have hands-on training with clients to practice your laser techniques and get a real world type of experience. We also offer night classes.
We don't cut ties with you once you've graduated NLI! We offer you access to our Graduate Services Department, which provides 100-200 job leads for you each month to help you find career opportunities within this industry. Our Graduate Services Department is also there if you need help or have any questions you need answered. We also provide you with access to our private, online medical esthetics library. This is a great online tool that has thousands of pages of resources, including clinical studies, equipment information, job resource guides, and much more.
Medical professionals who are interested in cosmetic injectable training on top of cosmetic laser training can enroll in our comprehensive medical professional course. This course covers all the laser technologies mentioned above PLUS Botox, dermal fillers, sclerotherapy, and more. It's a well-rounded medical esthetics course that also includes hands-on clinical training with clients so you can gain the confidence you need to bring these skills to your own clientele!
To learn more about our courses or about the medical aesthetics industry, simply fill out our form on the right or call 480-290-7399.
Learn More from Our Webinars!
Our free, online webinars are a great way to learn more about the industry. They are hosted by President and Founder, Louis Silberman, as well as experts in the industry. You'll learn more about this billion dollar market place, view live treatment demonstrations, view real student testimonials, learn more about our courses, and participate in a live Q&A where we'll answer any and all of your questions.
We offer these webinars each month. You can sign up for our next webinar or view our sneak peek below!
Learn more