Rejuvenate Your Skin with Halo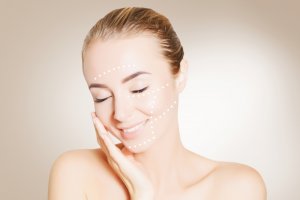 Introduced in 2014, Halo is the world's first hybrid* fractional laser that can perform ablative and non-ablative skin rejuvenation at the same time.
This cosmetic laser treatment can address a variety of skin imperfections (like sun damage), which will make your skin look younger!
During a cosmetic laser course at National Laser Institute, you will have the opportunity to learn Halo and a variety of other laser treatments in as little as two weeks.
What is Halo?
Halo is the first and only fractional hybrid* laser available in the medical aesthetics industry. It rejuvenates and renews your complexion through fractional skin resurfacing.
What makes this skin rejuvenating treatment unique to the medical aesthetics industry is it can perform ablative and non-ablative skin rejuvenation at the same time.
Ablative skin rejuvenation works by removing the outer skin layers to reveal softer, more youthful looking skin. Non-ablative skin rejuvenation, on the other hand, works underneath the skin's surface and doesn't disturb the outer dermal layers. This stimulates the body's collagen, which leads to natural and subtle skin improvements over time.
Treatments using the fractional laser typically take around two hours to complete, depending on the size of the treatment area. This treatment may be performed using a topical numbing cream to ensure your comfort throughout the procedure. At the end of the treatment, a cooling device is used to bring the skin back to a comfortable temperature.
5 Common Skin Rejuvenation Questions
As a cosmetic laser technician, here are five of the most frequently asked you will get about the Halo hybrid* resurfacing treatment:
1. How many treatments do I need?
What's great about this treatment is you can choose how many sessions you want! You will want to discuss with your laser tech what you are looking to achieve. You can choose to have one or two aggressive treatments or multiple treatments that are less aggressive and spread out over a longer period.
2. What results can I expect?
Halo is considered a complete skin rejuvenation treatment. After, you can expect to see improvements in overall tone and texture, removal of discoloration, reduction in fine lines, reduced pore size, and skin reflectivity and glow.
3. What does Halo feel like?
Most clients say they experience little discomfort with a topical anesthetic and integrated cooling technology. After your treatment, you may feel warm for about 15 to 30 minutes – or longer with deeper treatment levels.
4. When will I start to see results?
You will start to see results about two to five days after your Halo treatment, and your skin will continue to improve over time. Many clients have said that they have seen the greatest pigmentary improvement in the first two to three weeks.
5. How soon after my Halo treatment can I resume normal activities?
For the first 24 hours, you should keep your skin protected according to your laser tech's instructions. But after that, you should be able to go about your normal activities.
Laser Training at National Laser Institute
Did you know you can become a cosmetic laser technician after just two weeks of training from the National Laser Institute?
With over a decade of excellence, we provide you with both classroom education and clinical hands-on training for the most comprehensive training experience.
Our comprehensive laser courses are taught by some of the industry's leading experts, including cosmetic laser techs, nurses, doctors and skincare specialists with over seven to 20 years of experience. During didactic, you will learn from up to 13 different instructors alone!
In the classroom, you will learn things like laser biophysics and tissue interaction, patient selection, patient care and more! This will prepare you for your hands-on training.
Your clinical hands-on training will be done in a medical spa environment where you will treat scheduled clients to gain real-world experience. We have a dedicated staff that works around the clock to book paying clients for you to perform treatments on. We like to keep our classes small to provide you with a more intimate and personalized learning experience.
Once you complete your laser training, you will feel confident and comfortable to perform a variety of laser treatments in any medical setting!
If you would like to learn more information about our medical aesthetics course options, feel free to give us a call at 1-480-290-7399 or fill out the form on your right.