What Will I Learn During Botox Training?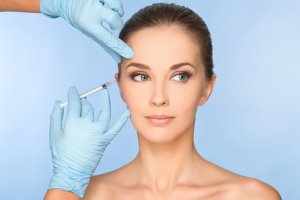 The North American facial injectable market is expected to grow to $5.8 billion by 2024 – wow!
With the popularity of Botox, dermal fillers and cosmetic injections on the rise, more physicians, nurses and medical professionals are seeking out CE/CME training!
If you have a passion for helping people look and feel their best, you can learn some of the most in-demand treatments in just two weeks with Botox training at National Laser Institute.
What Injectables Will I Be Learning During Training?
During Botox and dermal fillers training, you will have the opportunity to learn and work with some of the most popular products, including:
Dermal Fillers
The first category of injectable treatments you will learn during training is dermal fillers (sometimes referred to as facial fillers.) Fillers are used to replace lost volume in the face. The most common areas fillers are used are:
Nasolabial folds. These run from the outside of your nostrils to the corner of your mouth.
Marionette lines. These are the lines that run from the corners of your mouth down to your chin.
Nasojugal groove (tear troughs). This is the area under your eyes.
Dermal fillers can also be used to restore lost volume in the temples, reduce the appearance of protruding veins on aging hands and lift drooping eyebrows and eyelids. And who can forget fillers to plump the lips?
Fillers are divided into two types: hyaluronic acid (HA) and non-hyaluronic acid. Hyaluronic acid fillers work like a sponge; They bind with water in the skin and plump the areas in which they are injected. Non-hyaluronic acid fillers, on the other hand, stimulate collagen production in the area into which they are injected.
Neurotoxins
The next category of injectables is neurotoxins, which includes Botox. Neurotoxins are used to treat fine lines and wrinkles caused by repetitive muscle movement by paralyzing the muscles. Three areas commonly treated by Botox are:
Between the brows. Botox between the eyebrows can be used to reduce the look of frown lines – the two vertical lines between your eyebrows that create an "11" when your face is relaxed.
The forehead. Botox can be applied to the forehead to reduce the appearance of a lined, furrowed face.
Crow's feet. To reduce the appearance of noticeable lines on the side of your eyes, Botox is injected into the crow's feet to create a younger appearance for your face overall.
Neurotoxins can also be used to treat "smoker's lines," platysmal bands in the neck and fine lines in the cheeks. Botox typically lasts between three to four months before the muscle regains strength and movement.
Fat-dissolving Compounds
The latest category of injectables is fat-dissolving compounds. Kybella is currently the only FDA-approved injectable that contours and improves the appearance of submental fullness, or "double chin." Kybella treatments are done in-office and generally require three to five treatment sessions about six weeks apart for the best results.
Botox Training at National Laser Institute
Did you know if you are a physician, nurse or medical professional, you qualify to take our continuing education courses?
At National Laser Institute, we offer comprehensive training courses that can be completed in as little as one week! And if you are on-the-go, we have weekend courses, too.
Each course is led by some of the industry's leading nurses, doctors, skincare specialists and cosmetic laser techs with seven to 20 years of experience in the field.
Our courses include didactic (classroom) education and clinical hands-on training to provide you with the ultimate learning experience!
In the classroom, you will learn things like facial anatomy, Botox injection techniques and patient care. This will prepare you for your clinical hands-on training in a luxury medical spa environment.
During hands-on training in our educational setting, you will watch comprehensive demonstrations no more than a foot away from the training bed, and you will perform treatments yourself! We have a dedicated team that works around the clock to schedule clients for you to gain real-world experience.
After you receive your Botox certification, you will have the confidence and skills to perform Botox and other cosmetic injectable treatments in any medical setting!
To learn more about National Laser Institute's course options, fill out the form on your right or call 1-480-290-7399.