9 of Your Most Frequently Asked Questions Answered!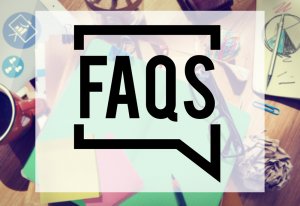 Choosing a school that is right for you is important. And as you research schools, we are sure that you have questions, too.
We read through all of your comments and questions each day on social media, and we decided to create a list of questions that you, our followers, frequently ask us. Here are your top questions answered!
1. What are the prerequisites to take your courses?
You don't need any prior experience in the medical aesthetics field. In fact, anyone can take our cosmetic laser courses. You just need to be at least 18 years old and hold a high school diploma or GED.
Our CE/CME courses are designed for nurses, doctors and medical professionals. Documentation of your current licensure is required with course registration.
2. How much do the courses cost?
The price of each course varies depending on you're learning goals. When you speak with one of our Admissions Advisors, they will guide you through a set of questions that will determine which one of our courses is right for you!
3. Where are you located?
We have two main campuses: our Corporate Headquarters in Scottsdale, AZ, and Dallas, TX, which is one of the country's largest medical spas and training centers. We also train students in other locations nationwide, including Chicago, Boston, Nashville, Philadelphia, Honolulu, Las Vegas, Newport Beach, San Francisco, New York and much more! Call us to inquire about our upcoming courses in a city near you!
Did you know?
Approximately 50%-60% of our students travel out of state/country to complete our courses as they can be completed in just 1-2 weeks.
4. Do you offer job placement once I complete my course?
We frequently receive inquiries from medical spas, doctor's offices and clinics across the country seeking NLI graduates. As the requests come in, we distribute the leads to our alumni. Our dedicated team sends out 200-500 job leads a month!
While no school in the country can "guarantee" you a job, we are confident that our reputation speaks for itself. In the laser world, we believe that completing our course is similar to graduating from a university with Ivy League prestige.
5. Is National Laser Institute accredited?
Yes. We have accreditations and licensing from the Arizona Board of Private Post-Secondary Education, the Arizona Radiation Regulatory Agency, the American Academy of Family Physicians, the Western Multi-State Division, the Texas Department of State Health Services and the Texas Workforce Commission among others.
6. What type of job can I expect to get once I graduate?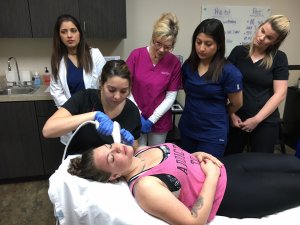 There are many fulfilling job opportunities in medical aesthetics as the industry continues to flourish and grow.
Those who attend National Laser Institute go on to achieve lucrative and enjoyable careers as:
Cosmetic Laser Technicians
Medical Aestheticians
Laser Tattoo Removal Specialists
Laser Hair Removal Technicians
Medical Spa Owners
Medical Spa Managers
Students who attended National Laser Institute have gone on to work fulfilling careers at:
Medical Spas
Doctor's Offices
Salons & Fitness Centers
Plastic Surgeons & Dermatologist Offices
Laser Clinics & Niche Clinics
7. How do I get a scholarship or grant to attend your school?
National Laser Institute is licensed to provide private post-secondary education. We've partnered with the nation's leading student loan providers to give our students access to competitive loan options. Plus, if you are an out-of-state student, your educational funding can also cover airfare and hotel costs.
We do offer scholarships that are based on economic need. One of our Admission Advisors can walk you through the process and see what you may qualify for!
8. What is the difference between the Comprehensive course and CORE course?
Our comprehensive courses are by far our most popular courses. We offer a Comprehensive Laser Course and a CE/CME course monthly in Arizona and Texas. However, on occasion, we find a student who cannot get a full two weeks off from work, and he or she will take our CORE class, which is a condensed training program that we have modeled off our comprehensive courses.
9. Who can perform Botox injections?
 The medical aesthetics industry is regulated on a state-by-state basis. In most states, an RN or higher can perform Botox/injectables. But in a few states, LPNs can. Our knowledgeable Admissions Advisors will be able to give you an overview of your state.
If you would like to learn more about cosmetic laser training or our CE/CME courses, please feel free to give us a call at 800-982-6817 or fill out the form on your right.