New Body Contouring Device Receives FDA Approval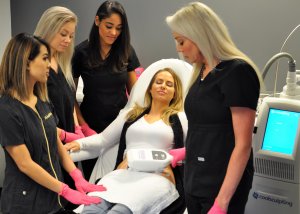 The noninvasive body contouring market just got a little bigger!
Allergan, the maker of Botox, just received FDA approval for its device CoolTone, which strengthens and tones areas like the abdomen, buttocks and thighs.
CoolTone now joins other technologies — like CoolSculpting — that allow clients to target stubborn areas of fat with little to no downtime.
So what does this mean for you?
As these minimally invasive procedures continue to rise in popularity and new devices enter the medical aesthetics industry, businesses are looking to hire individuals who are well versed in various body sculpting techniques and cosmetic treatments.
What Is CoolTone?
CoolTone, which is manufactured by Allergan, is a noninvasive treatment that helps strengthen and tone muscles through magnetic muscle stimulation (MMS). Through this method, electromagnetic energy is shot into your muscles, causing involuntary contractions that strengthen the muscle fibers underneath the treatment area. This results in stronger, firmer and more defined muscles.
Medical aesthetics schools across the country offer training for those looking to jump-start their career in the health and beauty industry. National Laser Institute provides comprehensive training with CoolSculpting, the fat-freezing cousin of CoolTone, and other aesthetic treatments.
This one-of-a-kind fat freezing procedure can treat nine areas of the body, including the chin, abdominals and love handles. CoolSculpting also stimulates collagen production, which increases the skin's ability to bounce back after experiencing sudden fat loss.
How To Become A Cosmetic Laser Technician
Body contouring courses are essential for anyone who wants to begin offering cosmetic procedures like CoolSculpting. The National Laser Institute provides body contouring courses where you'll learn CoolSculpting and other body sculpting techniques to deliver safe and effective treatments to your future clients.
Each course includes classroom education and clinical practice for you to feel comfortable and confident in administering various cosmetic treatments. In the classroom, your instructor will lead discussions about topics such as the science of body contouring, why cellulite develops and body sculpting techniques. What you learn in the classroom will help prepare you for clinicals, where you will treat clients to gain real-world experience with noninvasive fat reduction procedures.
By the end of a body contouring class at National Laser Institute, you will be able to:
Explain the factors that lead to excess fat and cellulite development in the body
Understand the current nonsurgical body contouring technologies on the market, including radio-frequency energy and cooling devices
Explain how these modalities can be used with other treatments for optimal results
Understand pre- and post-treatment protocol
Demonstrate hands-on nonsurgical body contouring treatments
Body Contouring Courses at National Laser Institute
Do you have a passion for helping others look and feel their best? A career in the medical aesthetics industry might be for you! National Laser Institute, the nation's leading medical aesthetics school, offers body contouring courses that can be completed in two weeks or less!
For the ultimate learning experience, each course includes classroom education and hands-on training so that you feel comfortable and confident in the new skills.
In the classroom, your instructor will lead discussions about topics such as clinical applications in the industry, body sculpting techniques and the consultation process. What you learn in the classroom will help prepare you for clinicals.
Hands-on training will take place in a medical spa environment. Here, you'll be placed in a small, intimate group and take turns treating real clients that we schedule for you. Your instructor will provide comprehensive demonstrations as well as offer personalized instruction while you are in the treatment room.
One of the things that separate the National Laser Institute from other medical aesthetics schools is we have a Graduate Services Department that sends out over 600 job leads a month to our alumni! Previous students are currently working in laser & niche clinics, medical spas, physician's offices, salons, fitness centers and more! We invite you to check out thousands of National Laser Institute reviews from previous students!
Join us for our new online "hybrid*" course that you can attend from the comfort of your own home by simply using your phone or computer! During our Hybrid* Online Comprehensive Laser Course you will receive a combination of online classroom laser training and clinicals with a variety of instructors and live demonstrations with several hours on each modality. Modalities include Laser Hair Removal, Photofacial, Laser Skin Rejuvenation, Radiofrequency Skin Rejuvenation, Coolsculpting, Cellulite Reduction, Tattoo Removal, Radiofrequency Skin Tightening, and Microneedling. 
To learn more information about courses at National Laser Institute, fill out the form on the right or give us a call 1-480-290-7399 to speak with an Admissions Advisor.