What are REAL People Saying About Medical Aesthetician School?
Medical aesthetician school is a career change for some and an additional skill set for others, but one thing is for certain: people are THRILLED that they went through the steps they need to make it in this industry.
Did you know there was over 6 million Botox treatments performed just last year? Or that there were 2 million dermal fillers and 1 million laser hair removal treatment services provided across the U.S.? Cosmetic lasers and injectables are paving the way of fast, effective, and naturally-appearing results with little to zero down time. Because comprehensive training takes only two weeks, many people are jumping at the opportunity to become laser technicians. It's obvious why everyone wants a piece of this cake!
We all know the internet is brutally honest, so I went there to see what real people were saying about their medical aesthetician school and educational experience. These are the real results:
@jessathomson Loved my first day at my new job!!! #medicalaesthetician
@Amber_Walter I passed#stateboard! Yay yay! #MedicalAesthetician and #laserTech!!
@KellyMapps Interview for full time laser tech in the city! Whoo hoo #muststaypositive
As you can see, this industry is full of passionate people who genuinely love what they do. And as you can see, the market is still in demand of laser technicians and medical aestheticians!
Medical Aesthetics Training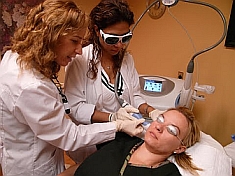 If you're looking for the leading medical aesthetician school, look no further than National Laser Institute. NLI offers medical aesthetics training for aspiring laser technicians and medical aestheticians. Best of all, they offer a comprehensive two week laser training course that covers all the popular cosmetic laser modalities, like laser hair removal, photofacials, laser tattoo removal, stretch mark reduction, acne reduction, laser wrinkle reduction, and more!
In this course, students will receive hands-on clinical training with a variety of state-of-the-art laser equipment and get the chance to practice on scheduled clients within a luxury medical spa setting as well as didactic lectures from experts in the industry. We believe in offering students a variety of learning methods so they get the best possible educational experience.
National Laser Institute
We are the leader in the medical aesthetics industry and are recognized as gold standard education. We have been called the Harvard of laser training schools across the nation and have earned many outstanding reviews. To jump start your cosmetic laser career, enroll in one of our laser training courses! To learn more, please call 800.982.6817.