Bringing Laser Training to America's Vainest Cities
According to a report in Men's Health, America's vainest cities include Atlanta, Georgia; Miami, Florida; San Francisco, California; Plano/Dallas/Houston in Texas; Pittsburgh, Pennsylvania and Providence, Rhode Island. This was where most people spent the most time and money on appearance.
But being vain doesn't mean having to spend thousands of dollars on dangerous and risky plastic surgery. According to the ASAPS, nonsurgical cosmetic treatments are highly in demand! 6 million Botox treatments, 1 million filler treatments, and 1 million laser hair removal treatments were figures reported just for the year 2012. So what better way to feed the vanity craze? Bringing laser training and medical aesthetician school to specific cities throughout the U.S. with National Laser Institute's destination training courses!
Laser Training and Botox Injection Training
For the last two years, National Laser Institute has traveled throughout the U.S. to bring quality laser and Botox training to major cities where there is a demand for medical aesthetician schools. Botox injection training is provided for medical professionals interested in offering treatments to their clients, and cosmetic laser training is offered to aestheticians, medical professionals, and other health and beauty experts who want to learn the ins and outs of cosmetic lasers.
National Laser Institute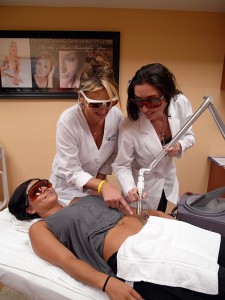 National Laser Institute is the leading medical aesthetician school that offers destination courses to major cities each year, bringing quality laser training and Botox injection training to you. They have earned many outstanding reviews as well as an A+ rating from the BBB, and are recognized as gold standard education. Hundreds of students receive training from the National Laser Institute every month, and they constantly are updating their destination course schedule for cities across the U.S.
To learn more about laser training, Botox injection certification, or National Laser Institute, please call 480-290-7399.