How Tattoo Removal Lasers Can Remove Your Unwanted Ink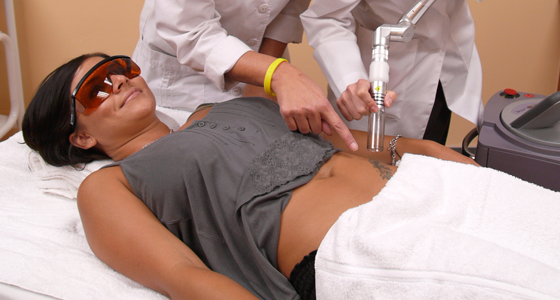 Laser tattoo removal has become a highly in demand treatment over the last decade. Laser technicians are capable of using cosmetic laser equipment to remove unwanted tattoo ink. The most popular form of laser equipment is the Q-Switched Nd: Yag laser. However, there are different types of Q-switched lasers designed to remove different colors of ink. Red ink responds well to green laser pulses, green ink responds well to red laser pulses, black ink responds well to the 1064nm wavelength.
Q-SWITCHED RUBY LASER:
Blue and green ink are the most responsive to this laser.
Q-SWITCHED ALEXANDRITE LASER:
Blue, black and green are the most responsive to this laser.
Q-SWITCHED ND:YAG LASER:
This laser offers a huge advantage for treating darker skinned clients since it decreases melanin absorption. However, the wavelength offers a limited color range (black and dark blue). This laser does offer a feature that is better at removing reds, oranges, and yellows.
It is typical for a client to need between 12-15 laser tattoo removal treatments before seeing the best results. Greens and blues are the toughest to fade while blacks and reds tend to be easier. The entire laser tattoo removal process doesn't take that long, averaging between 5 – 15 minutes (depending on the tattoo's size). Because of this, laser technicians are capable of treating multiple clients in one day.
WHO CAN PERFORM LASER TATTOO REMOVAL?
Cosmetic laser technicians, medical professionals, estheticians, cosmetologists, and others who are properly trained and certified in cosmetic laser tattoo removal can perform this treatment. In order to become certified, you must attend a cosmetic laser school.
National Laser Institute offers hands-on laser tattoo removal training courses for those wanting to offer this treatment for clients. Led by expert cosmetic laser technicians, attendees will learn everything from laser safety, the Fitzpatrick scale, laser biophysics, pre and post treatment care, laser operations, and so much more. Attendees will also gain hands-on clinical training, performing laser tattoo removal treatment on clients in a luxury medical spa setting and perfecting their laser techniques.
National Laser Institute is the leading cosmetic laser school in the nation that has been around for over a decade. To learn more about laser tattoo removal training, simply call 1-800-982-6817 or fill out our form on the right.