Tattoo Removal Training for Physicians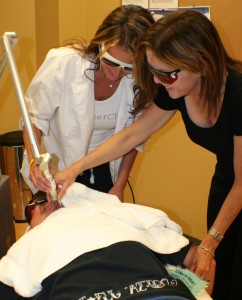 Laser tattoo removal has been around for many years, but in the past decade, many states have regulated cosmetic laser equipment to protect the safety of clients.
In many places, only a physician, nurse, or medical professional can perform laser tattoo removal and only after they receive proper training.
National Laser Institute is committed to giving physicians the quality education they need to add laser tattoo removal to their expertise, starting with a gold standard of training.
How Laser Tattoo Removal Works
Unlike the creams, laser tattoo removal works to treat client's tattoo pigment differently. Typically, a Q-switched laser is used based on the client's skin and tattoo type. This type of cosmetic laser can safely and effectively fire cosmetic heat and energy directed toward the tattoo's pigment. Once emitted, the energy can break up the pigment into tiny, microscopic pieces that are then flushed out through the body's lymphatic system. Clients see their tattoo fade over time by using this process, but it normally takes between 6-12 treatments to see quality results.
Training Program
At National Laser Institute, our tattoo removal training program is designed with you in mind. We offer customary tattoo removal courses that physicians can work around while earning CE/CME credits. In this course, physician's will experience both classroom training as well as clinical training in a medical spa environment treating scheduled clients. We believe that both of these learning styles are necessary for gaining a full understanding of cosmetic laser tattoo removal.
Industry Standards, Industry Experts
National Laser Institute is the leader in the cosmetic laser industry and was the school who set the cosmetic laser training standards for laser schools across the nation. We pride ourselves in quality education, which can only be brought to you with industry experts as your instructors. Physicians will learn from experts in the field of cosmetic lasers and tattoo removal for a well-rounded education.
Maximize Your Opportunities
National Laser Institute doesn't stop at giving you quality laser tattoo removal training but also provides business marketing tips and success tools for entering the industry. You'll also learn about cosmetic laser equipment, proper protocol for paperwork, and how to follow up with clients pre and post-treatment. Because laser tattoo removal requires clients to receive more than one treatment to see effective results, you'll also understand how to build your clientele while performing the best possible tattoo removal treatments.
National Laser Institute has earned many outstanding reviews as well as an A+ rating at the BBB. To learn more about tattoo removal training or National Laser Institute, please call 480-290-7399.