Why You Should Consider a Career in Medical Aesthetics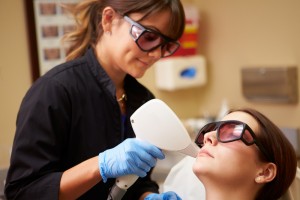 Are you a recent high school graduate or considering a career change? Do you want to choose a career field that you will love? We have a solution: Consider a career in medical aesthetics!
Here are the top four reasons why a career in medical aesthetics should be your next career move:
Increased demand for treatments. If you do your research (and we hope you have), you will find that the medical aesthetics marketplace is growing rapidly. In 2016, over $16 billion was spent on cosmetic treatments, ranging from laser hair reduction to Botox. The reason for this popularity? Treatment prices are affordable, and the results are dramatic. As the medical aesthetics industry continues to grow, there's an increased demand for cosmetic laser techs. (And there are opportunities to earn a little extra money, too.)
Tons of growth opportunities. If you are worried about hitting a standstill once you land a job, you can breathe a sigh of relief. There are many opportunities to learn and grow within every position in this industry. You will find that many clinics will offer additional cosmetic laser training to their employees to learn about the newest techniques and devices for different procedures.
There is never a dull moment. If you don't like monotony, then you have found the right career field, because every day is an adventure. Patients consult estheticians and cosmetic laser techs for several reasons: everything from acne and rosacea to wrinkles and scarring. You will combine your people and technical skills by performing a handful of different treatments while educating patients.
It is a rewarding experience. As the saying goes: If you do what you love, you will never work a day in your life. This career path is for people who are truly passionate about what they do because they help people look and feel good about themselves. Wouldn't you want a career where you can inspire confidence and happiness in others?
Medical Aesthetics Training at National Laser Institute
At National Laser Institute, we offer a Comprehensive Laser Course for those considering a career as a cosmetic laser technician. Our classroom instruction is designed to give you in-depth knowledge of skin care mechanics like how lasers work, clinical applications and laser safety.
During the second half of the course, you will have hands-on training in an educational setting. We schedule clients for you to work on to gain real-world experience. Our experienced instructors will be by your side to offer personalized instruction in an intimate setting and to answer any questions you might have about the industry.
By the end of the course, you will feel prepared to confidently administer laser treatments for any skin type in a variety of medical aesthetic setting, including medical spas, physician's offices and other medical settings.
To learn more about National Laser Institute's cosmetic laser courses, fill out the form on the right or give one of our admission advisors a call at 1-480-290-7399.