Cosmetic Laser Treatment for Stretch Marks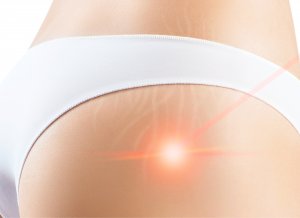 Looking to get into the world of cosmetic lasers? Curious about cosmetic laser treatment for stretch marks? You can treat many issues with cosmetic lasers. The technology is outstanding and only getting better. As more clients turn to the medical aesthetic industry for treatments, demand continues to grow. 
How do you treat stretch marks?
Stretch marks can be a difficult issue for many people. They are very common and are often caused by a number of different issues. Issues such as growth spurts, pregnancy, or rapid weight gain or loss. Most people do not like the appearance of stretch marks. As a laser technician, you can treat this issue! Using fractional laser skincare treatment on a client can reduce the appearance of stretch marks. Laser treatments help a variety of issues such as wrinkles, dark spots, and acne. Interested in becoming a laser technician?
What else can you learn?
Apart from cosmetic laser treatment for stretch marks, you can learn a lot of other things! There are a number of in-demand cosmetic laser treatments. At the National Laser Institute, you can learn them all! We offer training that is all-inclusive. You will truly learn everything you need to know to become a laser technician. We offer both in-person/online training as well as exclusively online training. Online training gives you the ability to be flexible with your schedule. You can learn from anywhere! The in-person portion of learning, should you choose that, allows you to get experience working on clients. Whatever you choose your experience will be amazing! Our students rave about us!
What's it like to work in the medical aesthetic industry?
So what's it like to work in the medical aesthetic industry? Every day is different and you never know what to expect! Clients have different issues. You will be using different treatments depending on the issues. Treatments such as cosmetic laser treatment for stretch marks will become normal to you. If you love working with clients who become repeat customers as you get to know them. This is a fun industry! You are truly changing people's lives. Many clients struggle with low self-esteem and these treatments bring them back to life inside and out!
This is a booming industry! The demand is high for cosmetic laser treatments. If you want to work in the beauty industry and constantly be learning new things and bonding with clients then this is the industry for you. If you think this is your calling then give us a call today!
During our Online Comprehensive Laser Course you will receive online classroom laser training with a variety of instructors and live demonstrations with several hours on each modality. Then choose one of our nationwide locations to attend your clinicals for hands-on learning!
Modalities include Laser Hair Removal, Photofacial, Laser Skin Rejuvenation, Radiofrequency Skin Rejuvenation, Coolsculpting, Cellulite Reduction, Tattoo Removal, Radiofrequency Skin Tightening, and Microneedling.
If you're ready to get started in the medical aesthetic industry then give us a call at 855-637-4530 to talk with one of our admission representatives. They'll answer all your questions and guide you through the whole process.