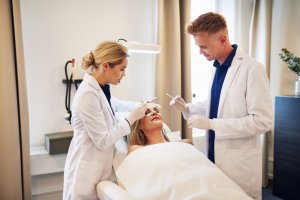 Make no mistake, the business of Botox is booming. People want it, they need it and they will pay for it. For a guide to the best Botox careers, you've come to the right place!
Botox as a business: 
There are many reasons that the popularity of Botox has spread like wildfire. Botox has earned a reputation for being safe. Moreover, it is incredibly accessible and reasonably affordable. Likewise, the administration is minimally invasive, and it also has a variety of uses, both on and off label. 
Where there is money being made on Botox, there are people getting paid to administer it. In fact, thousands of medical professionals have gladly joined the field of medical aesthetics. They've happily jumped on the Botox bandwagon and now make a living off of injecting the cosmetic sensation. Similarly, many of those same people are in search of the best Botox careers in the business.
Botox, or Botulinum toxin type A, is a cosmetic injectable commonly used to smooth wrinkles. When Botox is injected into a muscle it inhibits contraction thereby causing wrinkles and fine lines to soften and smooth. Consequently, as it eradicates existing wrinkles, it also helps prevent new wrinkles from materializing.
Unquestionably, that depends on the state in which you live. Generally, doctors, dentists, physicians assistants, nurse practitioners, and registered nurses are the only medical professionals that can administer Botox. Prior to being accepted into any Botox training courses (like the popular one available at National Laser Institute) medical professionals must submit proof of their medical background, transcripts and licensure. 
Legally speaking, estheticians may not administer Botox. Similarly, registered nurses may only administer Botox under the supervision of a medical director. 
What are the best Botox careers?
It's noteworthy to mention that with so many available careers in the medical aesthetics industry it's particularly difficult to pinpoint the best Botox careers. Quite naturally, different personalities make people tend to like different things. Clearly, what one person thinks is the ideal setting might not necessarily fit perfectly for someone else.
Professionals who administer injectables work in settings such as physicians' offices, medical spas and fitness centers among others.
That being said, there are certainly jobs in the field of Botox rising like cream to the top of the drum.
The Field Favorites:
Medical spas are among the most popular places to work for aesthetic nurses who specialize in Botox, dermal fillers, and other injectables. Nurses sick of a more clinical, rigid environment, like a hospital, tend to genuinely enjoy the more relaxed, serene environment of a medical spa. 
Physicians' offices are another popular place for receiving Botox injections and a happy career choice for medical aesthetics professionals. Whether the practice is a plastic surgery office, dermatology clinic, family practice, or an OB/GYN, many aesthetic nurses enjoy the structured routine of a clinic.
Fitness centers are among the newest spots to offer Botox injections and also a popular place for medical aesthetic professionals to work. Professionals who prefer fast-paced environments with often fit clientele who are in tune with their bodies and keeping them in shape often find a comfortable position in such facilities. 
For more information on Botox training: 
National Laser Institute is the leading medical aesthetics school in the country that offers cosmetic laser, Botox, and cosmetic injectable certification. Courses range from as little as one weekend to a 2-week course.
Botox training with National Laser Institute includes learning from industry experts including dermatologists, plastic surgeons, experienced aesthetic nurses and earning CE/CME credits upon course completion.
Don't just take it from this blog post, instead listen to our podcast where you can hear firsthand stories and testimonials of former National Laser Institute students (including several Botox injectors). 
To learn more about National Laser Institute's Botox training courses, simply fill out the attached form or give us a call at 800-982-6817.
During our CE/CME Online Cosmetic Injections Course you will receive online classroom and demonstrations on:
– Botox
– Dermal fillers
– Off label Botox and fillers
– PRP
– Sclerotherapy
– Kybella
– PDO threads
Then choose one of our nationwide locations to attend your clinicals for hands-on learning!