How to Become a Laser Technician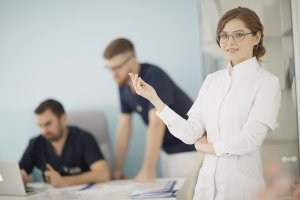 You could do a million things with your life. In fact, nearly that many things come to mind when you really think about it. You could be a crime scene cleaner, or a panda nanny (this is a real thing), a water slide tester or even a professional leech collector. But for whatever reason, you googled "How to become a laser technician?" instead.
We're glad you did. Truly. The other jobs listed are hardly a way to make a living these days. Admittedly the panda nanny gig sounds pretty fantastic, but the pay is terrible. Also, it would be really sad when the pandas grow up and don't need you anymore. Likewise, for being a water slide tester. They only make about $28,000 annually. That is barely incentive enough to stay in swimsuit shape year-round. In sum, the job doesn't pay well, and it could potentially kill you—those are some serious drawbacks to consider. Leech collector is clearly out of the question (for obvious reasons) too.
TLDR: We're really excited that you're looking into becoming a laser technician because:
A.) There is low likelihood that the profession will kill you.
B.) The pay is great.
C.) Your clientele will neither maul you nor suck your life blood.
D.) You will learn an awesome, wholly marketable skill that doesn't involve hurtling your body down a watery tube at 60 miles per hour (people actually go this fast, we checked).
E.) The job opportunities are huge!
The steps to avoid a panda mauling forever:
Become a laser technician. It really is that simple. There is such low probability of an animal attack in this profession it's not enough funny. The risk is so low, in fact, that it can't even be found on Internet search engines (trust us, we tried looking).
We can't wait to tell you how to become a laser technician in this post. Undoubtedly, we will set you on the right path (away from crime scene cleaner) to do so.
National Laser Institute wants to help keep you intact!
At National Laser Institute, we are thrilled every time someone decides to look into how to become a laser technician over others jobs. Especially deadly ones. With your safety in mind (we are similarly concerned about chafing on those water slides) we are ecstatic that you've opted to take a different route!
The path to not getting attacked by a rabid panda (we didn't actually check whether or not pandas get rabies, we used the headline mostly for drama):
Luckily, at National Laser Institute we offer comprehensive training on how to become a laser technician.
In less time than it takes you to beta test 16 water slides (roughly two weeks) you can be trained as a cosmetic laser technician.
In courses led by professionals in the medical aesthetics field, you will learn exciting skills and techniques including laser hair removal, photofacial, laser skin rejuvenation, radiofrequency skin rejuvenation, Coolsculpting, cellulite reduction, tattoo removal, radiofrequency skin tightening, and microneedling, among others.
The career pathway is clear (and reasonably benign!):
Once you have your certificate, the possibilities are limitless for what you do with your career. As a laser hair technician, you will be qualified to work in fitness clubs, medical and day spas, salons, doctor's offices and laser treatment clinics. With so many options in many locations, you will find the perfect fit for your personality!
Laser technicians work both full- and part-time. Additionally, many technicians enjoy benefits packages including paid time off and holidays, reduced stress work environments (people don't get nearly as feisty in a day spa) and access to personal use of lasers for themselves and family,
We know you're a bit of risk taker (reference the aforementioned career path considerations) so we ask that you pull your motorcycle/hot air balloon/race car over before chatting with one of our advisors. You may also call 480-290-7399 for more information.
We can't wait to hear from you!
During our Hybrid* Online Comprehensive Laser Course you will receive online classroom laser training with a variety of instructors and live demonstrations with several hours on each modality. Then choose one of our nationwide locations to attend your clinicals for hands-on learning!
Modalities include Laser Hair Removal, Photofacial, Laser Skin Rejuvenation, Radiofrequency Skin Rejuvenation, Coolsculpting, Cellulite Reduction, Tattoo Removal, Radiofrequency Skin Tightening, and Microneedling.