Laser Hair Removal Schools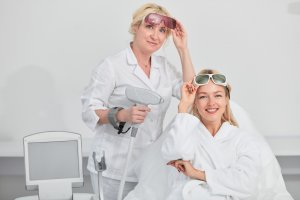 Finding the right laser hair removal schools can be a bit of a challenge. But, it doesn't have to be that way. Esthetics is an ever changing industry, one that not only embraces change, but encourages it.
Intense pulsed light, or IPL for short, is a cosmetic skin treatment. We've seen it used for all sorts of "look good" fixes, and just like tradition laser removal, IPL can been used on both male and females. So, which one is better. Or, more importantly, which type should you focus your training on?
The DL On IPL
IPL is a cosmetic skin treatment, that was invented by Lunemis based out of Orlando FL. Surprisingly, IPL isn't really that "new," as the company just celebrated their 50th.
Nowadays, we use IPL to reduce signs of aging and remove unwanted hair. In addition, it has been used to reduce scars visual appearance, and lighten dark clumps of skin. If you have issues with spider veins, you may find resolve in IPL.
Lasers Or IPL, What Gives?
IPL and lasers go hand in hand, in that, they're both used for the same basic treatments. But, there is one major difference between the two. Where as laser push a single wave-length or light energy, IPL uses multiple waves.
This means, you can treat larger areas of skin in a far shorter time. For comparison, the typical IPL treatment takes 30-45 mins to complete, where as laser hair removal takes 20 minutes.
So, which is better for removal. A single laser beam, or multiple IPL? Well, honestly, it's a bit hard to say. Because you can adjust the light stream on IPL, it offers a broader range of uses. And, generally speaking, because IPL is not actually a laser, clients might not experience the same level of discomfort.
Laser Hair Removal Schools
When it comes to Laser hair removal schools, finding the right one is super important. Ideally, you want a school that will cover all types of treatment. Further, you want a school that can help you learn the ins and outs of technique. It's also important to have a class structure backed by real world experience. Most importantly, you'll want the option of hands-on on training.
In conclusion, you should focus your training on both IPL and laser hair removal. Similarly, you'll want a course that shows you how to use both.
NLI has one of the best Laser Hair Removal Schools around, and offers a solid program through and through. So, if you want to get started today, check us out!
During our Hybrid* Online Comprehensive Laser Course you will receive online classroom laser training with a variety of instructors and live demonstrations with several hours on each modality. Then choose one of our nationwide locations to attend your clinicals for hands-on learning!
Modalities include Laser Hair Removal, Photofacial, Laser Skin Rejuvenation, Radiofrequency Skin Rejuvenation, Coolsculpting, Cellulite Reduction, Tattoo Removal, Radiofrequency Skin Tightening, and Microneedling.