Laser Hair Removal Schools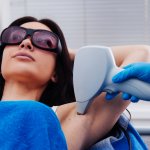 Laser hair removal schools are on the up and up. What's laser hair removal all about anyways? And better yet, why are laser schools popping up all over?
For starters, laser schools are helping meet a demand for more lasers services. We know that sounds crazy, but that really is the bottom line. So, where's all that interest coming from you might ask? Everyone has questions about treatments, career changers included, and they want answers!
Laser Hair Removal Q&A
How does it work?
Laser hair removal works by pressing a laser beam directly on the skin. Because the laser type is made to target just hair, it passes through the skin avoiding burns. Then, the heat from the laser destroys the follicle which causes the hair to STOP growing.
Does it work for everything?
We only know of one case where laser hair removal does not work – grey hair.
How many treatments will you need to do?
Removals only work DURING the hair growth cycle. So we typically see clients a few times to fully remove their hair. Ideally, this is accomplished in 3 treatments – but, occasionally can take as many as 9.
Will your clients experience pain?
It depends. And you'll hear this a lot unfortunately. That's because there's more than one type of laser used for hair removal. ND:YAG, Alexandrite, Diode, and Ruby are the most popular types. However, in general pain can be reduced through proper application. That means having a tech who knows what they're doing!
Will you be exposed to radiation?
No. The energy emitted from a laser is not like an X-ray – but rather is a concentrated stream of pure light and heat.
How long will each treatment take?
Laser hair removal appointments typically take about 20 minutes. Occasionally, they can take longer. It all depends on what area of the body you are treating.
Choosing A Laser Hair Removal School
There's a lot of questions surrounding laser hair removal schools, and laser procedures. That's why choosing the right laser removal school is so important. NLI has multiple locations around the U.S., and offers some of the best training around. We have hybrid style course structure, backed by 17+ years of experience in the industry. Additionally we have incorporated a focus on hands-on, and in a world where safety trumps all – that's huge.
For more on laser hair removal schools, give us a call: 480-290-7399
During our Hybrid* Online Comprehensive Laser Course you will receive online classroom laser training with a variety of instructors and live demonstrations with several hours on each modality. Then choose one of our nationwide locations to attend your clinicals for hands-on learning!
Modalities include Laser Hair Removal, Photofacial, Laser Skin Rejuvenation, Radiofrequency Skin Rejuvenation, Coolsculpting, Cellulite Reduction, Tattoo Removal, Radiofrequency Skin Tightening, and Microneedling.