Laser Skin Tightening Online Courses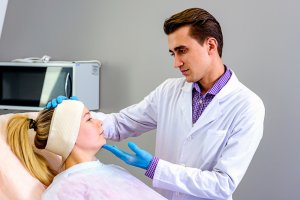 Want to help clients with their aging skin? Interested in taking laser skin tightening online courses? We have courses here at NLI! You'll learn all about laser skin tightening treatments as well as many other treatments. These treatments are so in-demand! From the young to the old everyone is looking to get cosmetic laser treatments. Why not jump into this booming industry now?
What is laser skin tightening?
So what is laser skin tightening? Why take laser skin tightening online courses? Laser skin tightening is a non-invasive treatment. It is ideal for all skin tones and textures. Many clients struggling with the following issues love this treatment:
are unable or unwilling to get a surgical procedure to tighten your skin

desire a noninvasive, nonsurgical way to tighten your skin

want a treatment performed with minimal discomfort, no incisions, and no downtime
This is the perfect treatment for clients with subtle to moderate loose skin on your face, neck, arms, or abdomen. The treatment will tighten those areas. Prior to treating your client you'll look at their skin and make a treatment plan based on their needs and goals. This treatment is perfect for those clients who want tighter skin but don't want to go under the knife to get it. 
Benefits of working in the medical aesthetic industry
So why get into this field? It's booming! This is a sixteen billion dollar industry. The exciting part is it is only continuing to grow! With the demand from boomers and millennials, the industry is expanding. More and more people are interested in cosmetic laser treatments. As more medspas open up the demand for laser technicians is growing. Now is the time to jump into this field. Here are a few more reasons to get into this field
work in the beauty industry
flexible schedule
work one on one with clients
build relationships with clients
work at a variety of places
you can work for yourself
you can work corporately for a skincare company
Laser Skin Tightening Online Courses
Want to take our laser skin tightening online courses? We'd love to have you as a student! Many of our students have gone on to open their own business or work at medspa. There are so many things you can do in this field. Some students even go on to work on the corporate side of the skincare industry. If you know you want to get into this industry don't hesitate! There are so many options in this field. You'll never be bored and you'll always have different options if you want to go in a new direction. 
Laser Technician Training at NLI
Ready to take our course? We offer online training as well as in-person training. During the course, you will learn all about lasers, treatments, and treating your client's skin. We'll teach you everything you need to know to succeed in this industry. Here at NLI, we care about the future careers of our students. We know you came here to change your life and that's exactly what we are going to do for you! Our students go on to open their own business, work at medspas, tattoo shops, and even work in the skincare industry corporately. No matter what your career goals are, our program can get you there!
Sign up for our laser skin tightening online courses!
Want to get started today? Give us a call! There is no better time than the present to begin taking the steps to your dream career.
During our Hybrid* Online Comprehensive Laser Course, you will receive online classroom laser training. You will have a variety of instructors and live demonstrations with several hours on each modality. Then you can choose one of our nationwide locations to attend your clinicals for hands-on learning!
Modalities include Laser Hair Removal, Photofacial, Laser Skin Rejuvenation, Radiofrequency Skin Rejuvenation, Coolsculpting, Cellulite Reduction, Tattoo Removal, Radiofrequency Skin Tightening, and Microneedling.
If you're ready to get started in the medical aesthetic industry then give us a call at 855-637-4530 to talk with one of our admission representatives. They'll answer all your questions and guide you through the whole process.