Laser Hair Removal E-courses Dallas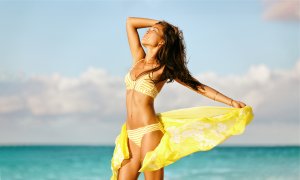 Want to get into the booming skincare industry? Consider taking laser hair removal e-courses in Dallas. You'll be able to change your career in no time! If you've always wanted to get into the medical aesthetic industry now is the time!
Laser Hair Removal
What is laser hair removal? Laser hair removal is one of the most common cosmetic laser treatments. Above all, many women and men want to permanently get rid of hair on their bodies. As a result of laser hair removal, there is no more shaving, waxing, or buying razors. No more wasting time and money on getting rid of hair. With laser hair removal you can get rid of hair permanently. However, clients will need to get multiple treatments for the hair to completely go away. For example, many clients need anywhere from six to eight treatments. If you're interested in learning this treatment consider taking laser hair removal e-courses in Dallas.
Our Laser Hair Removal E-courses in Dallas
Here at NLI, we offer laser hair removal e-courses in Dallas. During the course, we teach everything you need to know to become a laser technician. You'll learn how to assess your client's skin. No matter the issue you'll be able to provide a treatment plan for them. Our course is comprehensive and quick! No need to go back to school for four years. No need to delay your life any longer. At NLI your life can change in just a matter of weeks! 
Our Course Options
Interested in taking laser hair removal e-courses in Dallas? We offer multiple options if you want to take our online course or an in-person course. There are many benefits to online learning. You can learn from the comfort of your home. Your current schedule in life doesn't have to be disrupted. People who do online learning tend to be more focused and take in what they learn on a deeper level. Consider our hybrid* program if you enjoy in-person learning. During the in-person portion, you will get hands-on training. You'll work with real, paying clients and learn to administer all the latest in-demand treatments. 
Testimonials
Want to see some student testimonals? Here's what some of our students have to say about their course:
Firstly, here's Lynn's experience:
"I am a recent graduate of National Laser Institute and I can say without hesitation my experience there was amazing. I have been an esthetician for 10 years and I was ready for the more medical side of things, and the instructors here were amazing in getting me prepared and confident to go out into the workplace and implementing everything I learned. Not only did I receive a superior education in all areas of medical aesthetics, but I felt more confident in myself because of the positive, professional, happy atmosphere that was there. I would recommend this school to anyone!!"
LYNN MORGAN
"From my first phone call to NLI to the amazing training by Shana to the clinicals, all the instructors were so upbeat and positive. They treated me as though I were a long time friend! Amazing experience."
GAIL ARNOLD
Lastly, here's what Bill has to say about his experience:
"I highly recommend this course whether you're a professional or just entering the industry! The course was very informative."
BILL CANDES
Why come to NLI in Dallas?
Why take a course in Dallas? If you're interested in our hybrid* program come to Dallas! You'll learn the classroom side of things online and then do the in-person part in Dallas! Our students love their time at our campus. Many go on to make lifelong friends. Here's a breakdown of what you can expect to learn during the classroom portion of the program:
Treating different skin conditions and types

Evaluating skin types using the Fitzpatrick scale

Skin physiology and tissue interactions

Laser Physics

Laser Safety

Indications and contraindications

How to perform the consultation process

Laser settings and functionalities
During the in-person portion of the course, you'll learn how to administer cosmetic laser treatments. You'll get experience treating real, paying clients. Our instructors will guide you through the entire process. Here are the treatments you can expect to learn:
Laser Hair Reduction

Photofacial

Laser Tattoo Removal

Coolsculpting Body Contouring

Radiofrequency Treatments

Skin Rejuvenation

Skin Tightening

Cellulite Reduction

Microneedling, and so much more
Most importantly, by the end of your laser hair removal e-courses in Dallas you'll be able to:
Recognize the cosmetic client's unique characteristics

Understand the fundamentals of how a laser interacts with skin tissue

Explain how different types of light-based devices interact with the skin

Identify safety issues and complications as well as recognize contraindications for various cosmetic laser treatments

Determine which types of laser treatments will create the desired results for your clients

Understand the hazards associated with cosmetic lasers and how to avoid them

Demonstrate proper technique and safe operation of laser and pulsed light devices

Explain the benefits, expectations, and results associated with several laser devices
Become a Laser Technician!
Want to become a laser technician? Give us a call now! Our admission advisors can walk you through the whole process and get you on the way! 
During our Hybrid* Online Comprehensive Laser Course, you will receive online classroom laser training. You will have a variety of instructors and live demonstrations with several hours on each modality. Then you can choose one of our nationwide locations to attend your clinicals for hands-on learning!
Modalities include Laser Hair Removal, Photofacial, Laser Skin Rejuvenation, Radiofrequency Skin Rejuvenation, Coolsculpting, Cellulite Reduction, Tattoo Removal, Radiofrequency Skin Tightening, and Microneedling.
If you're ready to get started in the medical aesthetic industry then give us a call at 855-637-4530 to talk with one of our admission representatives. They'll answer all your questions and guide you through the whole process.