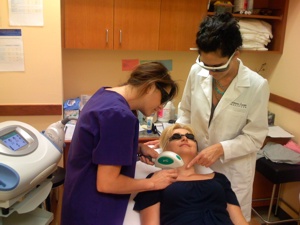 Lasers are used for many cosmetic procedures today.
Of course, laser hair removal is probably the most notable medical aesthetics treatment. However, there are plenty of aesthetic procedures for the skin that use laser technology.
With aesthetic laser training at National Laser Institute, you will have the opportunity to learn some of the most in-demand cosmetic laser treatments in just 2 weeks!
What Will I Learn During Aesthetic Laser Training?
Cosmetic lasers can be used to reduce the appearance of wrinkles, minimize skin conditions such as rosacea and acne, and fade or remove tattoos. They can also tighten and brighten skin and even minimize varicose veins.
Laser skin treatments are also effective at:
Smoothing and tightening the upper and lower eyelid skin
Removing crow's feet
Removing freckles and brown spots
Removing stretch marks
Softening frown lines
Reducing redness in the skin
And more!
Not surprisingly, aesthetic laser procedures are among the most frequently requested services at medical spas and salons. This means big business for trained laser technicians. In fact, in 2016, over 7 million laser hair removal treatments were performed across the United States.
At National Laser Institute, our Comprehensive Laser Course covers:
The difference between laser and Intense Pulsed Light (IPL) technologies.
The physics of IPL and laser devices.
Using the Fitzpatrick scale for skin typing and patient selection.
Safety of lasers and IPL devices.
Potential risks and contradictions of laser and IPL treatments.
Client screening and candidacy.
And more!
Invest in Your Future with Aesthetic Laser Training
In order to cash in on this booming business, you must attend cosmetic laser training. You can receive training at National Laser Institute.
We provide hands-on aesthetic laser training in a comprehensive, structured classroom environment. We also provide the opportunity for you to practice the skills you are learning on real clients in a medical spa environment. In addition, we include a course in how to start and promote your own aesthetic laser business as part of our training program. No other esthetics school will give you that.
We also offer qualified applicants the chance to receive 100% financing to attend our aesthetic laser training program. This includes the cost of airfare and a hotel for the 2 weeks you will spend with us.
Once you complete aesthetic laser training at National Laser Institute, you will feel comfortable and confident performing cosmetic laser treatments in any medical setting. Our alumni have found job working at laser & niche clinics, medical spas, physician's offices, salons, fitness centers and more!
To find out more about your exciting new career as a cosmetic laser technician, call us today at 800-982-6817 or fill out the form to your right!